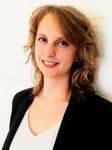 Michelle Meyer
Expertise
Publishing, Editing, Proofreading
Education
BIS (Hons) Publishing from the University of Pretoria, BA Languages (English Studies) from the University of Pretoria
Experience
Michelle has been involved in the publishing industry since her student days. From working in a bookstore, she moved into book distribution. Here, she managed logistics and sales channels, negotiated author book submissions and contracts, and implemented various marketing strategies, including online and directly to customers. For the last two years, Michelle has worked as an editorial publisher in the academic publishing sector. Her experience includes project management, editing and proofreading, and design services.
About Tolstoy's Editorial Process
At Tolstoy, our editorial team is committed to producing top-quality content to help e-commerce stores improve customer engagement, marketing, and conversions through interactive videos. Our research team ensures that our content benefits online retailers and meets their needs. We have a network of expert writers with relevant industry knowledge to provide value-added content. The editors and fact-checkers ensure that every article is well-written and accurate. Read our editorial policy for further details about our processes and guiding principles.
Latest from Michelle Meyer