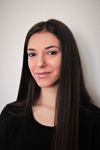 Nevena Radulović
Expertise
Editing, Fact-checking, Proofreading, Content Writing
Education
Master's degree in English Language and Literature from the University of Kragujevac, Bachelor's degree in English Language and Literature from the University of Kragujevac
Experience
Nevena's long-standing love of languages emerged at an early age and shines through in her work as an editor, keen eye for detail, and finesse in polishing texts. In her free time, she also enjoys reading, keeping up with contemporary culture, and translating multiple languages.
About Tolstoy's Editorial Process
At Tolstoy, our editorial team is committed to producing top-quality content to help e-commerce stores improve customer engagement, marketing, and conversions through interactive videos. Our research team ensures that our content benefits online retailers and meets their needs. We have a network of expert writers with relevant industry knowledge to provide value-added content. The editors and fact-checkers ensure that every article is well-written and accurate. Read our editorial policy for further details about our processes and guiding principles.
Latest from Nevena Radulović