eCommerce Guide: Strategies for Driving Conversions and Scaling Your Business

Reviewed by

Staff Editor
Updated February 1, 2023.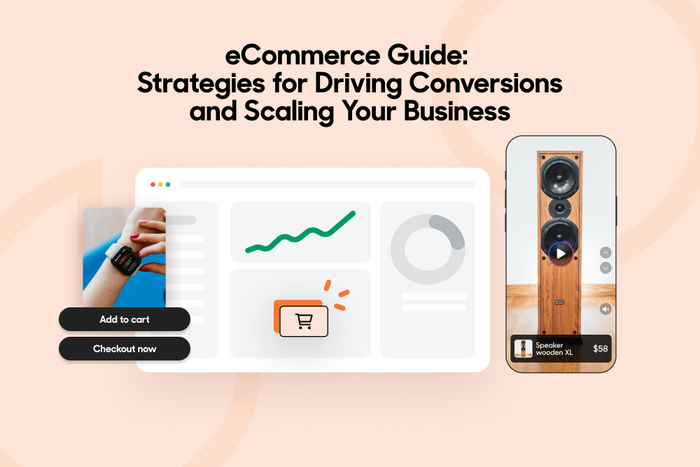 Introduction
E-commerce is a rapidly growing industry, and with more and more people turning to online shopping, it's more important than ever for businesses to have a strong online presence. In a recent webinar with Tim Masek (CEO, 1-800-D2C) and Anaita Sarkar (Author, Sell Anything Online), they shared proven key strategies for driving conversions and scaling your eCommerce business.


Exciting New Tools
Fondue: Offers cash back incentives to customers. Discounts are shortsighted, lack longevity, and are a huge loss of revenue. Discounts also capture the wrong type of customers who are motivated by discount incentives and won't buy your product at full price. A better solution is to offer customers cash back. Those who are discount incentivized are still motivated to purchase. Those who aren't motivated by discounts won't redeem the cash back, and the money will go back into your business.
Bounty: Automate the process of gathering UGC and purchasing the rights to use the videos. Bounty empowers the everyday customer to become a creator by incentivizing them with cash based on how many views their videos receive. Businesses can gather more UGC at a lower price.
Tolstoy: Add UGC to your online store. With Tolstoy you can get more mileage out of your social media videos by having them live on your site. With scrollable video feeds on your site, customers will spend more time on your site and have a larger AOV.
Spellbound: Create interactive emails to engage customers and collect data. Stop making your emails sound like a sales pitch, turn them into a 2-way conversion. It's high touch and you gather feedback.


Most Popular Tech Stack for Launching an eCommerce Business
Best to start with:
Shopify: Commerce platform providing trusted tools to start, grow, market, and manage a retail business of any size.
Klaviyo: Automates personalized email and SMS communications. Connects to your store to create customer segments based on past purchasing behaviors, customer preferences, and even future predictions of spending.
Gorgias: Customer support platform to chat with customers, edit orders, modify subscriptions, and refund payments
Junip: Collect reviews via email and SMS. Leverage photos and videos from customers to share directly on your storefront.
Okendo: Capture and showcase social proof such as product ratings and reviews, customer photos, videos, and Q&A.


Easy add ons to take your store to the next level:
Social Snowball: Automated affiliate acquisition, one click universal payouts, and a simple interface for eCommerce merchants selling on Shopify.
Superfiliate: Personalized storefronts for your best customers, influencers, and affiliates
Smartrr: Subscription app built to increase LTV, Smartrr increases customer engagement and brand affinity with a variety of out-of-the-box subscription models, flexible subscription management options, loyalty rewards, referrals, and member-only benefits. High-growth brands, such as Starface and Bloom, have seen an average of 5X more sales over the lifetime of a subscriber.
Skio: Subscription platform that is multilingual and gives customers an easy way to login to their account (passwordless login via SMS code).
Bounty: Drive growth by generating more UGC videos. At checkout an automated message will be sent to customers to encourage them to take a video review of your product and post it on TikTok.
Tolstoy: Increase conversions and leverage UGC by strategically adding interactive videos throughout your customers shopping journey.


Tools to Significantly Improve Website Conversion
Kno: If you're advertising on TikTok, you need a post-purchase survey. KNO helps ad buyers better understand who their customers are, and where they're coming from. Dial in your post-iOS 14 attribution, build more accurate personas, and drive action with pre-built post-purchase survey templates.
Oddit: eCommerce designers take an unbiased look at your website and gives you constructive feedback on changes you can make to your site to boost long-term conversion & strengthen brand loyalty. In Tim's words, Oddit will "roast your website."
Clarity: Tim's most shocking finding of 2022. Clarity by Microsoft is a free research software that does heat mapping and scroll mapping.
Tolstoy: Having UGC or video content in strategic places throughout your entire eCommerce experience will help you drive hard conversions.


New Trend that Could Help DTC Merchants Get Off the Ground
Managed marketplaces can help DTC merchants get their products in front of a wider audience and increase their visibility. AOV is much larger than it would've been for a single store. An example of a managed marketplace is Ohne, a curated destination for a community looking for the best products in period care, sexual wellness and wellbeing. Brands that have seen an increase in conversions from using marketplace cross-selling are Blendjet and Manduka.
Carro automates marketplaces by connecting Shopify stores together to enable cross-store selling. Using Carro you can sell your products on leading stores, sell their products on yours, or both. Best thing about Carro is you don't have to hold any inventory because the merchant will ship the product.


5 Steps to Scaling Your Business
Tim shares his learnings gathered from interviewing 50+ eCommerce founders - you can view his full interviews from Under The Hood here.
Start with a remarkable product:

"Consumers are the fortune tellers," if it's a good product, you will grow organically by word-of-mouth.

Jeff, founder of Ugmonk

, and

Mike, founder of Windmill

, are great examples of businesses that have started with a strong product and have seen success as a result.

Unit economics are critical to growth:

Don't lose sight of your goals and get trapped in the appeal of growing at any cost – like spending too much money on ads and PR. Always keep your eye on a high profit margin.

Matt, founder of Spacegoods

, set himself up for success by creating a business model that led to a 85% profit margin.

Paid advertising:

Raize

, Keto cookies, increased their monthly revenue from $10k per month to $50k per month by adding paid campaigns. Raize scaled exclusively with Facebook Ads. Other advertising channels like TikTok and Instagram can be explored, but traditional advertising on Facebook is reliable, and it works.

Effective communication:

Have a cohesive storyline from ad to landing page. Ask yourself, "what is the consumer's goal?" and "how will they feel when they land on my page?" Landing pages are an incredible way to increase conversions. If a consumer comes across an ad for padded bags, when they click the ad, they should be taken to a landing page that features padded bags, not the generic homepage for all different types of bags offered. Anaita uses Shogun to create dedicated landing pages for targeted ads.

Listen to customers:

Jones Road

Listening to customers (Eli) / making tweaks to Klaviyo flows / adding bundles / refining referral mechanisms. (Amelie at Underdays)


Using 1-800-D2C for Competitive Analysis and Industry Insights
1-800-D2C has a comprehensive list eCommerce companies and what software tools they are using. 1-800-D2C can be used as a tool to do a competitive analysis on similar merchants within your vertical. For example, you can see what software a competing business is using to help guide their consumers in sizing. Another way to use 1-800-D2C is to see what tools are popular in other industries and how you can apply it to your business.


The Future of eCommerce, is DTC Dead?
Despite the challenges of the past year, DTC is far from dead. In fact, more people are selling online than ever before, with estimates showing an increase of over 200% in the last two years.


Summary
Having a strong product, effective communication, and utilizing the right technology stack are all key strategies for building and scaling a successful eCommerce business. Additionally, managed marketplaces can be a great option for DTC merchants looking to increase their visibility and reach a wider audience. DTC is growing and the market is ripe with opportunities.