The Simplest 5-Step Method for Making an Interactive Video for Your Online Store

By

Ashley Stander

Reviewed by

Korana Braun
Updated December 14, 2022.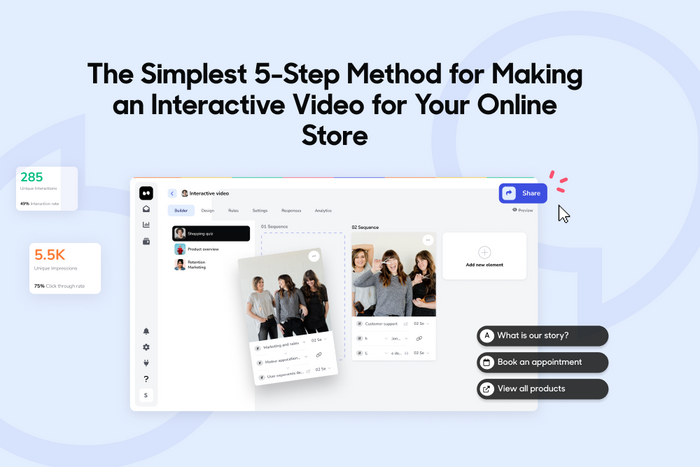 Making an engaging interactive video is not as intimidating as it sounds. If you partner with the right platform you can produce captivating videos like a real pro. The good news is that Tolstoy offers a simple and easy-to-use platform that will get you started, no mess, no fuss.
In this blog we take you through the five easy steps you'll need to take to create your very first Tolstoy.
» Interested in interactive marketing? Discover the best interactive marketing tools for online businesses.
Create Your Video With Tolstoy
Before you record your video, you'll need to brainstorm what the purpose of the video is, what will engage your target audience the most, and decide if you want to add a call to action—as well as what your call to action is going to be. It's also good to write a script so that you can speak with authority, knowing exactly what you are going to say.
1. Record Your Video
Ready, set, record! You can use your phone or a camera—whichever works better for you. Remember to try and color code objects in the video so that they complement your brand colors. Keep the video short, punchy, and engaging. It must have some sort of 'wow' factor to grab and hold your viewer's attention. You should also record a few versions so that you can select the best one for uploading.
Then, simply upload the selected video. You can experiment by recording a few short segments and tying them together, or import your creative TikTok videos directly to Tolstoy.
Pro tip: No inspiration? Not a problem! Tolstoy offers a wide variety of templates and stock videos to help you get started with interactive videos.
2. Add Responses to Your Video
If you add responses to your video, you can boost user interactivity. Depending on the goal and the type of interactive video, you could collect customer information by leading the viewer to a form, schedule appointments by leading the viewer to a calendar, or stimulate a 'conversation' by leading the viewer to another video. This is otherwise known as your call to action.
Pro tip: Keep your responses short, make sure they are clear and bold, and make them clever so that you entice your viewers to interact with your brand.
3. Link Your Video
In this step, you can use Tolstoy's interactive video builder to link videos to your end destinations. This is where you activate your chosen response from step 2. Let's look at a simple example. If you sell sneakers, you could add a link to your catalog and encourage viewers to browse your other sneakers by adding a "Like what you see? There's more!" call to action. It all depends on what you want your viewers to do.
Pro tip: The Tolstoy platform will help you to easily manage entire video and audio conversations that are deeper and more authentic than traditional chatbots.
4. Share or Embed Your Video
Almost there! Your next step is to embed your video on your online store's website. But you have other options too, you can embed your video with a widget, share it via email, or upload it onto your social media platforms.
Pro tip: Have a look at what your competitors are doing. Then, make sure your videos are better! Checking out the competition will also help make sure you are doing something different—you want to stand out from the crowd.
» Use Shopify for your e-commerce needs? Learn how to add videos to your Shopify homepage without YouTube.
5. Track Your Video's Performance
With this really cool feature, Tolstoy provides insight into what makes your viewers tick! Tolstoy's powerful analytics dashboard allows you to create super-smart segmentation based on your viewers' responses.
But wait, there's more! With Tolstoy, you will get notified every time someone engages with your brand. If you reach out immediately and professionally, you'll be able to build your brand reputation. You will get insight into what your customers are looking for and what has made them reach out, allowing you to mold your videos around these valuable insights.
Pro tip: The analytics dashboard is probably your most valuable tool when it comes to marketing your product or services. Let it become your go-to for monitoring the performance of your videos.
» Want to know more? Learn how to track Tolstoy analytics.
In closing
The tech landscape is changing and developing fast, and more people are watching videos instead of reading reams and reams of boring content. If you want to keep up with this changing landscape, you need to invest in videos.
With Tolstoy, it is made easy, giving you the support you need to create engaging content that captivates and maintains your audience! Then, building on your video content using your metric dashboard, you'll be able to give your viewers more of what they are engaging with most. It's a real no-brainer!
» Create captivating interactive videos for your online store with Tolstoy. Choose a plan to get started!