5 Genius Interactive Sales Videos to Draw Inspiration From

By

Daniël de Jager

Reviewed by

Tamara Fodora
Fact-check by

Lauren Hanano
Updated February 16, 2023.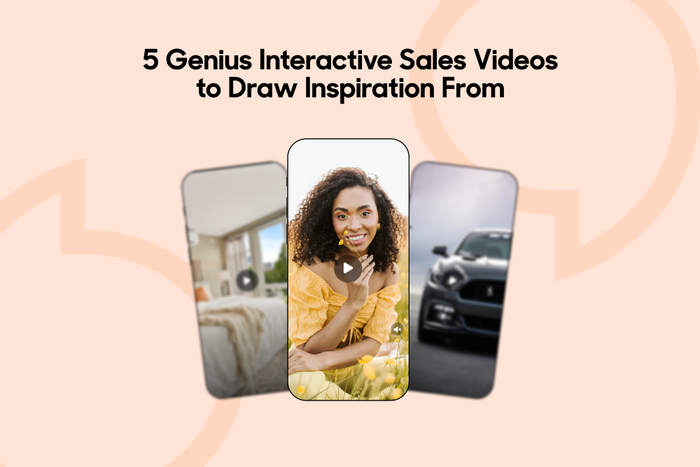 With access to a wealth of media online, it's often difficult to make your business stand out with traditional text, images, and video. Marketers are often at a loss for what to do in order to drive engagement and stop bleeding customers.
If this is the case for your business as well, you should start using interactive videos in your marketing campaigns. Interactive sales videos are the latest technology that enables marketers to engage more potential customers, give them a personalized experience, and increase sales as a result.
Read on for some interactive sales video examples that are guaranteed to inspire you.
» Looking for new advertisement ideas? Learn how interactive videos can bring you more customers.
1. Hyundai Interactive Video
In this interactive video, Hyundai has created something eye-catching, short, and memorable. The interactive video doesn't offer a deep experience like some other examples on this list, but that isn't required for what they're advertising.
They showcase the product (a car) and offer five buttons that, when pressed, bring up an image with some descriptive text about a specific feature. A key takeaway here is not to overdo (or underdo) your interactive video. It's tempting to do too much sometimes—but then you risk losing your viewer's attention.
Simple and sweet with a visible CTA like "Book a test drive" is often the best way to go.
2. P&G Ariel Interactive Video
If you've seen one washing detergent advertisement, you've probably seen them all. This is true with most traditional video ads, but P&G Ariel broke the mold with this interactive video, which became the brand's most engaged ad to date.
They expertly tailored the video to fit their audience, and they did so by adding the following:
A vertical design for social media (with a standard widescreen design for website use, as well)

Quick options that address each customer's pain point concerning washing

A clean design that shows just enough in each video segment
The result? Increased engagement, as the video captures the viewers' attention instead of making them block or ignore the advertisement like they would if it were just another traditional detergent ad.
3. Rituals Interactive Video
This shoppable interactive video by Rituals shows how brands can offer customers a premium shopping experience without the need to send them to their website. Many customers are lost between an advertisement and the online store, but this type of interactive video eliminates that gap and creates a way for customers to purchase the product as they see it being used in a visually pleasing environment. Shopping has never been easier.
4. LaCantina Doors Interactive Video
In this example, LaCantina created an interactive journey to help their customers discover the right type of sliding or folding door for them. This interactive video offers much more than a simple video can because:
It's more efficient, as it allows the customer to choose what they want to learn about

It offers two different views for every segment of the video

It has embedded links for the customer to visit LaCantina's website or order doors after they've made their decision
If you have a product as configurable as LaCantina's, take note of the use of the main menu and the high level of customer education found in this interactive video.
5. Virtual Art Sessions Interactive Video
Virtual Art Sessions' interactive video is one of a kind, and it shows how well this type of media integrates into various industries that often find it difficult to advertise effectively. It does a fantastic job of integrating virtual reality into the video, another feature that makes interactive marketing unique.
While Virtual Art Sessions is just an experiment by Google Chrome and not an advertisement, it does offer a unique approach that marketers can draw from. First, it shows how 3D interactive videos provide more detail and depth than traditional 2D videos can. Next, the video offers several links, paths, and mediums to engage viewers with different types of content. Finally, the viewer can experience all this, with vast amounts of processed data, from their device's browser without any add-ons that are often required for other interactive media types.
Final Thoughts
The world of interactive videos shows how this medium can be used to market products in ways never possible before. With increased engagement (most brands report 5x to 9x over traditional media), less friction, and vastly better UX, interactive videos are here to stay.
Get started on your own interactive video journey with Tolstoy. Adding video commerce to your website or social media is just one click away.
» Find out how to create an interactive video for your online store