5 Best Short Shoppable Video Examples: Advertise Your Products Like a Pro

By

Kate Pauline Galagnara

Edited by

Tamara Fodora

Fact-check by

Joel Taylor
Updated March 14, 2023.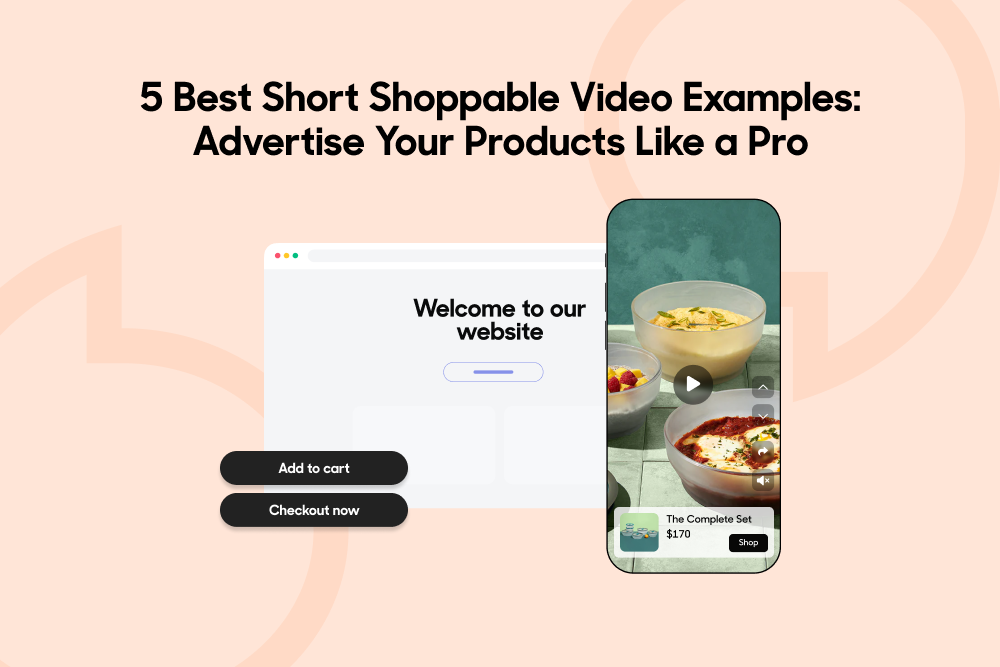 The age of the short video is here, and it's time to get on board.
It's no doubt that videos are dominating the advertising landscape—but with shorter shoppable videos, you can get your message across in a fraction of the time. The key is to create an informative and entertaining video that won't take too long for potential customers to watch. Plus, younger generations prefer watching condensed videos—hello, TikTok, Reels, and YouTube Shorts.
With that in mind, let's take a look at five of the best short shoppable video examples that are sure to help you advertise your products like a pro.
1. Missoni & Adidas
As one of the world's most recognizable fashion brands, Adidas knows how to make an impact with their videos. One of our favorite videos is the collaboration between Missoni and Adidas.
This shoppable video example is less than a minute long, but it still packs a powerful punch. It advertises their new collection by focusing on the products and their aesthetics. The video also highlights colors, patterns, and fun, active ways to use the product, helping potential customers better visualize what they're buying.
2. FluffCo
Using customer reviews for product ads is a great way to engage with customers, but it has many other benefits too. For example, take a look at this advertising video from FluffCo. It can help create an authentic sense of trust, provide credibility through the use of actual customer experiences, and drive conversions.
» Learn more about how shoppable videos are shaping e-commerce
3. Gogglesoc
What we really liked about Gogglesoc is how engaging and interactive their video is. A new level of interactivity was added by bringing in customer reviews and the option to click on the + icon for more. This way, customers can get a better idea of the product. In our opinion, it is a great way to combine aesthetic visuals with informative shoppable content.
4. ZAILA
For skincare brands, it's essential to showcase their products in an engaging way. ZAILA does this perfectly with the use of their beauty ambassadress in their short shoppable video. She displays how their product is used and how it looks on the skin after application.
If a brand is true to their "real results," then those results should be reflected in the way they market their products. This is especially true if the aim is to build trust, and this video is one great way to do it.
5. Anyday
Anyday made a good impression with this short video that shows the features of their product and what it can do for customers. Additionally, they also provide a quick customer service demo that allows potential customers to get the help they need without having to leave the video.
Moreover, the video is made interactive to ensure customers can get all the information about the products before making a decision. It's a great way to create an engaging and shoppable video that customers can easily connect with.
How to Advertise Like a Pro
Now that you've got a glimpse at what these pro-level shoppable videos look like, it's time to create one of your own using these 4 suggestions:
Focus on Quality

: Make sure your video looks great and is high-quality. High-quality videos will help you make a better impression.

Get Creative:

Your video should be creative and

stand out from the rest

. Get creative and fancy!

Keep It Short:

Shorter videos are a trend now, so you want to be sure to keep them as short and sweet as possible.

Include a Call to Action:

Don't forget to include a call-to-action at the end of the video. Drop a link to your website or the product page.
One key point to remember is that shoppable videos should be engaging, informative, and easy to understand. When creating your shoppable video, make sure to focus on the benefits of your product and the customer experience.
» Prefer advertising on Instagram? Check out the best 5 examples of Instagram shoppable videos
Final Thoughts
Short shoppable videos are a great way to advertise your products in an entertaining and informative way. By taking a look at some of the best short shoppable video examples and following the listed tips, you can learn how to create an engaging and interactive video of your own.
Remember, making the right choice when creating shoppable videos is essential for drawing in customers and keeping them engaged. If you do it right, you'll have a powerful video that can convert viewers into paying customers.
» Ready to start? Use Tolstoy to make your own short shoppable video