5 Mistakes To Avoid When Creating Your eCommerce Product Pages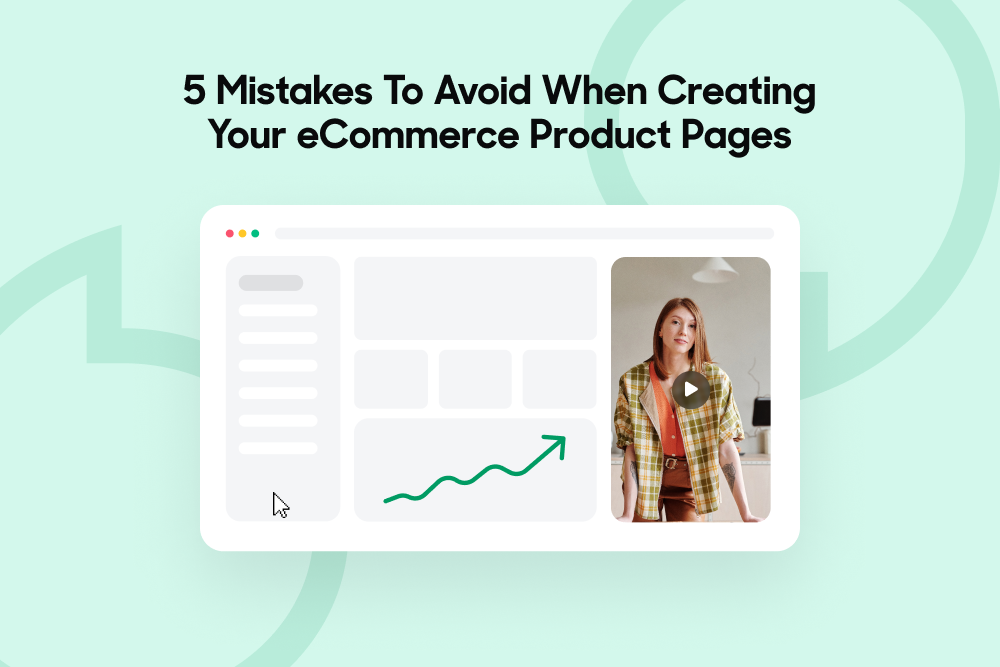 Your eCommerce product page is crucial for driving conversions and sales. In fact, studies show that over 75% of online shoppers say that the product page is the most important factor in making a purchase decision. So, if your product page is lacking, you could be missing out on a lot of potential sales. To help you improve your eCommerce product page and boost conversions, we've compiled a list of 5 common mistakes to avoid.
1. Unclear Product Descriptions
Clear and compelling product descriptions are essential to successful eCommerce sales. When writing ecommerce product descriptions, avoid vague words, eliminate buyer's guilt, be original, sell a lifestyle, and use keywords.
a. Avoid Vague Words
Avoid vague descriptions by painting a clear picture of your product. Words such as the following should be avoided at all cost:
"Nice"
"Very"
"Just"
"Actually"
"Literally"
"Kind of"
Instead, use descriptive words that paint an accurate picture of what you are selling.
b. Eliminate Buyer's Guilt
Majority of online shoppers experience buyer's guilt before finalizing an online purchase. Your job as an online store owner is to use your product description to eliminate buyer's guilt.
* Provide shoppers with a sense of urgency. Tell them that your offer is valid for a short period of time, so they'll feel justified after making a purchase.
* Tell shoppers that the product can do many things. A simple sunglasses can become multi-purpose if you present it well (i.e. "This glasses will keep your eyes out of the sun while giving you a fun and sexy look."). Let buyers know they are getting a great deal.
When you get rid of buyer's guilt, your customer walks away satisfied, while you make a sale.
c. Be Original
Don't plagiarize; ensure to write original product descriptions.
d. Include Keywords
Keywords play a major role in getting your product descriptions to feature at the top of the search engines. Don't stuff them but use them sensibly.
e. Sell a Lifestyle
Don't just sell a product, sell a lifestyle. When your buyers know your product is an essential part of their wardrobe, they'll be more than willing to buy.
2. Not Leveraging Social Proof
Leveraging social proof is crucial for the success of your eCommerce store. Social proof refers to any positive comments or reviews about your business or product, which serve as endorsements from satisfied customers. Online reviews play a critical role in shaping your brand's reputation, as they provide potential customers with insights into the experiences of previous buyers. In fact, research shows that 92% of consumers read online reviews, and 80% of shoppers trust them more than traditional advertising. Therefore, if you want to increase conversions, you cannot afford to ignore customer reviews, as products without reviews can be seen as untrustworthy.
The Power of Reviews in eCommerce Social Proof
They enable you to market with the voice of the customer, which carries more weight than self-promotion.

They engender trust and credibility by providing evidence that your products are worth buying.

They nurture customer loyalty by acknowledging and responding to customer feedback.
Top-performing online stores not only use customer reviews but also leverage user-generated content on the product page to persuade visitors to buy. For example, OutdoorMaster showcases social media posts from current customers to convince prospective buyers of the quality of their products. By featuring social proof on your product pages, you can increase trust and credibility, and ultimately drive more sales.
3. Missing Opportunities to Upsell and Cross-sell
To increase revenue in your online store, you have two options: upselling and cross-selling. By utilizing both tactics, you can increase your average order value (AOV).
Upselling and cross-selling are different in several ways:
Upselling involves convincing customers to buy a more expensive version of the product they originally intended to buy, while cross-selling invites customers to purchase related or complementary items.
Upselling aims to increase sales revenue, while cross-selling increases both the number of items sold and the total sales value.
Upselling increases the average purchase value, while cross-selling increases both the average purchase value and the average sale value per customer.
If you're a shopify store owner, you can use the Zoorix App to implement upselling and cross-selling strategies. Hooked Coolers, a Florida-based company that designs and ships coolers and accessories, effectively uses these tactics as shown in the image below:
4. Not Using Product Videos
One of the most common mistakes online store owners make on their product pages is not using product videos. As customers cannot physically interact with products before purchasing them, it's crucial to provide as much information as possible. Product videos not only showcase the product's features but also offer a glimpse into the various lifestyle uses, making it easier for customers to visualize the product in their home. This level of personalization increases the likelihood of a purchase, and ultimately, boosts sales. Furthermore, product videos can help in creating an engaging customer experience, improving SEO, and showcasing testimonials, among other things. Types of product videos include how-to, demonstrations, shoppable videos, unboxing, testimonials, and quizzes, each offering a unique way of presenting the product to the customer.


5. Complicated Checkout Process
A complicated checkout process is one of the primary reasons why shoppers abandon their carts. To avoid this, you should make sure to:




a. Optimize for Mobile
More than half of the people visiting your online store are doing so from a mobile device. Therefore, it is essential to optimize your eCommerce product page for mobile devices. Make sure that the checkout process is smooth and easy to navigate on small screens.




b. Allow for Guest Checkout
Allowing shoppers to buy as guests will make the checkout process faster and more convenient. They should not be forced to provide personal information before they can proceed with their purchase.




c. Avoid Asking Too Much Information
If you ask for personal information on the checkout page, make sure to ask for only the essential details that are required for the purchase. Asking for too much information can frustrate shoppers and make them abandon their carts.




d. Offer Multiple Payment Methods
Provide shoppers with different payment options, so they can choose the method that is most convenient for them. Don't limit people to a single payment method.




e. Disclose All Costs and Fees
Make sure to be transparent about all the costs and fees involved in the purchase. Don't surprise buyers with additional costs they didn't know about. Be upfront about the total cost, including taxes and shipping fees.




f. Use Security Seals and Badges
Using security seals and badges on your checkout page can help build trust and credibility. These elements reassure shoppers that their personal and financial information is safe and secure.




Conclusion
In addition to avoiding these mistakes, it's also important to continuously test and optimize your eCommerce product page. A/B testing different elements such as product descriptions, images, and checkout process can help you identify what works best for your audience and lead to even more conversions. Remember, the eCommerce landscape is constantly changing, so staying up to date with the latest trends and best practices is key to success.