5 Ways to Digitize Assisted Shopping to Link Your Offline & Online Store
By

Rob Elgar

Reviewed by

Joel Taylor
Fact-check by

Lauren Hanano
Published January 27, 2023.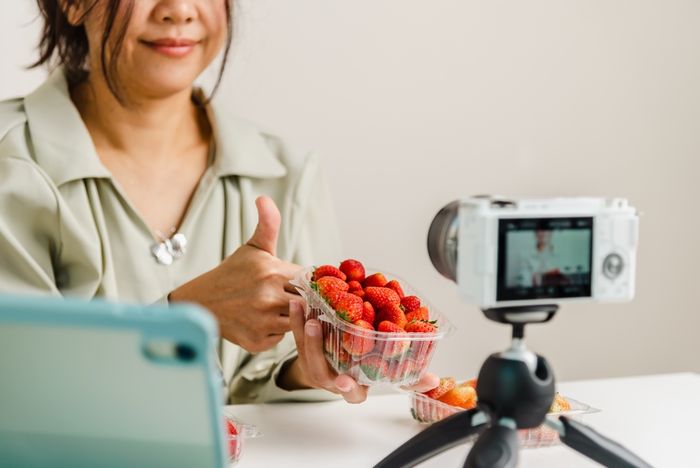 There's no denying that the world has been quickly shifting towards a digitized era, and with the help of the recent pandemic, the need for contactless shopping has skyrocketed this change. As shopping has taken a shift towards the digital world, it's essential to integrate your own store with the online world in order to stay ahead of the curve.
We've put together 5 tips for helping you do so.
1. Encourage Customers to Follow Up With Your Brand
Making a sale should not be the end of your relationship with your customers. Returning customers costs your business less, and encourages loyalty, brand awareness, and repeat sales.
One way you can encourage customers to return to your store is by placing QR codes or your site's URL on the packaging.
The interactive video above is a great example of how a QR code or URL listed on packaging can bring customers back to your store and directly into a new sales funnel. In this case, through personalized skincare recommendations.
By encouraging customers to return to your online store, you not only gain the opportunity to make another sale but can further engrave your brand's name into the shopper, thus encouraging brand loyalty and a spread of awareness.
2. Implement Buying Online & Picking Up In-Store
BOPIS is a click-and-collect strategy that allows customers to browse through your products in the comfort of their homes, make a purchase, and simply arrive at your physical address for collection.
Customers don't have to wait for products to be delivered, stand in long queues, or deal with returns of items that don't reach expectations. Products are also generally cheaper as customers save on delivery costs. With the option for customers to browse through an online catalog, it's possible to showcase more items than your physical storefront can display.
When customers come to collect, stored times can be brought from the back store, thus creating a wider variety of products and more sales opportunities. With cheaper products, less effort, and a faster reward, it's clear why allowing customers to buy online and pick up in-store is an effective strategy.
3. Allow Customers to Save the Product for Later Online
Allowing customers to browse through your products online, select what they like, and save it to be purchased later (like a shopping cart seen on eCommerce stores) will encourage shoppers to return to your online store to complete the purchase or make a new one. Not only this, but tracking what customers save can give you a better understanding of a product's popularity, how to correctly stock the item, and where potential buyers fall off the sales funnel.
Customers should be allowed to return to the online store and continue with the buying process, or, alternatively, pay and collect for the item at a physical address.
4. Allow Ordering in the Store & Shipping to Customers' Homes
Not everyone likes to shop online; however, in-store shoppers can be limited in what they purchase due to transport space or time. One way to counteract this constriction on sales flow is by offering customers the ability to browse and purchase products in-store and have them delivered to their homes. This allows customers to purchase a much larger quantity of goods, both perishable and non-perishable.
Not only will customers be able to buy a larger quantity, but the physical size of the items is limitless. Lastly, not being able to see all the items they have purchased encourages shoppers to buy more, as they have not registered the quantity.
5. Interact With Your Community
Interacting with your community online is more important than ever. Not only will keeping an engaged community encourages customers to return to your store, but it will present a place where you can freely advertise new products, deals, and future items.
Interacting with your community gives your brand or company a personalized touch, and a "human-like" aspect, which further encourages customer loyalty. When customers are contacted and interacted with, they feel special and as though their needs and efforts are not only seen but cared for. An experience like this will keep customers coming back time and time again.
A great way to interact with your community is to use content offered up willingly by them on your site, such as video reviews, or by offering interactive quizzes. You can even combine the two to have ambassadors for your brand advocate for your product in an interactive way, such as the video quiz below.
Final Thoughts
The world has become digital, and thus created the need for brick-and-mortar stores to integrate the digital world into their physical stores. By doing this, you will be able to engage with a younger audience, encourage faster, cheaper sales with a higher ROI, and increase customer experience and satisfaction.