5 Ways to Increase Shopify Engagement With Video Advertising

By

Ashley Stander

Reviewed by

Korana Braun
Updated December 14, 2022.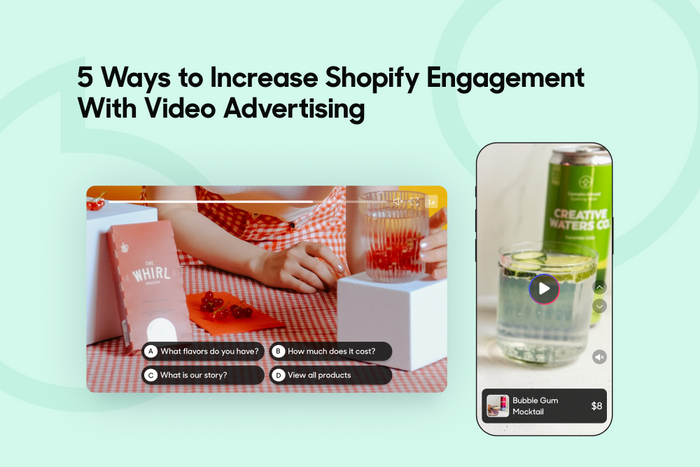 According to a recent study, about 87% of marketers say videos have helped them increase traffic, while approximately 94% of marketers stated that videos have helped them improve their users' understanding of a product or service.
As an eCommerce shop owner, these statistics should open your eyes to the unbelievable benefits of video marketing, especially because people are now more likely to research products and services first before making a purchase. So, here are five smart techniques to increase your user engagement using video marketing.
» New to video advertising? Discover interactive videos for online stores
1. Improve Engagement With Storytelling
Everyone enjoys a good story, especially if it is relatable in some way or another. It is one of the best methods for you to connect with your target market and engage them emotionally. This Allstate insurance video advert is a really good example of connecting with the target market through storytelling.
Allstate's core message is that if you want to avoid mayhem, sign up for insurance that will offer you a soft landing when chaos ensues. Most people can relate to the string of events that the family in the video experience, caused by an annoying pet. Besides using clever humor to entertain, they also present a solution to these common scenarios.


2. Create Testimonial Videos
Testimonial videos really work well because the 'social proof' will add a certain level of authenticity to your brand.
In this marketing video, Drop Box for Business interviews a variety of different people in different positions. Each person gives their reasons for appreciating the product, and their reasons are all relatable and believable. Not only is it marketing the product, but it is also building awareness around the different features of the product.


3. Use Educational Videos That Increase Engagement
Educational videos are especially useful in user engagement where you have a complex or complicated product or service. These types of videos will help your customers to learn more about and conceptualize your products or services. If your users have a good understanding of what you are selling, it will prompt them to make a purchase.
The following Uber Eats video makes it so easy for customers to understand the features of their product. It shows them how to use the app in a simple yet engaging manner.


4. Make Video Guides
There are many advantages to developing and creating video guides for your eCommerce store. Most importantly, these guides increase customer engagement because they show your customers that you are not just interested in making a sale—the guides are there to help them get the most out of your products or services. If you develop them professionally, they will do much more than just push for a sale.
This guide is an excellent example of a video guide because it takes the customer through the step-by-step process of bullet journaling. It gives an overview of what the challenges are and how this product provides various solutions to those challenges.


5. Shoppable Videos on Shopify
An engaging shoppable video will help your brand connect customers directly to the products you are marketing. It will also help you attract more customers and bring in more leads.
The most important benefit of shoppable videos is the ease of use for your customers. They can watch a video and shop all in one easy step. It goes without saying that the easier you make it for your customers to buy your products, the more conversions you will see.
Here is an example of a shoppable video by Tolstoy. It shows different customers and the manner in which they apply Berlin Skin cream - with easy access to the "Shop Now" click-through.


» Want to create engaging shoppable videos? Get Tolstoy and get creative
In a nutshell
Developing engaging marketing and advertising videos is, without a doubt, the way of the future for eCommerce store owners. If you haven't already started using videos, now is definitely the time to get going—just take a look at some of the benefits of video advertising:
Grow your brand presence and increase customer loyalty

Nurture relationships with your customer base

Increase your click-through rates

Lower your bounce rates

Simplify the buying process and the customer's journey
As you measure customer engagement with every video you publish, you will also get to know what your customers like and what they don't like. This will help you develop more of what your customers want to see. Now, do you still need convincing?
» Learn how to make an interactive video for your online store