Top 5 Ways to Use UGC in Your Online Store
Updated February 14, 2023.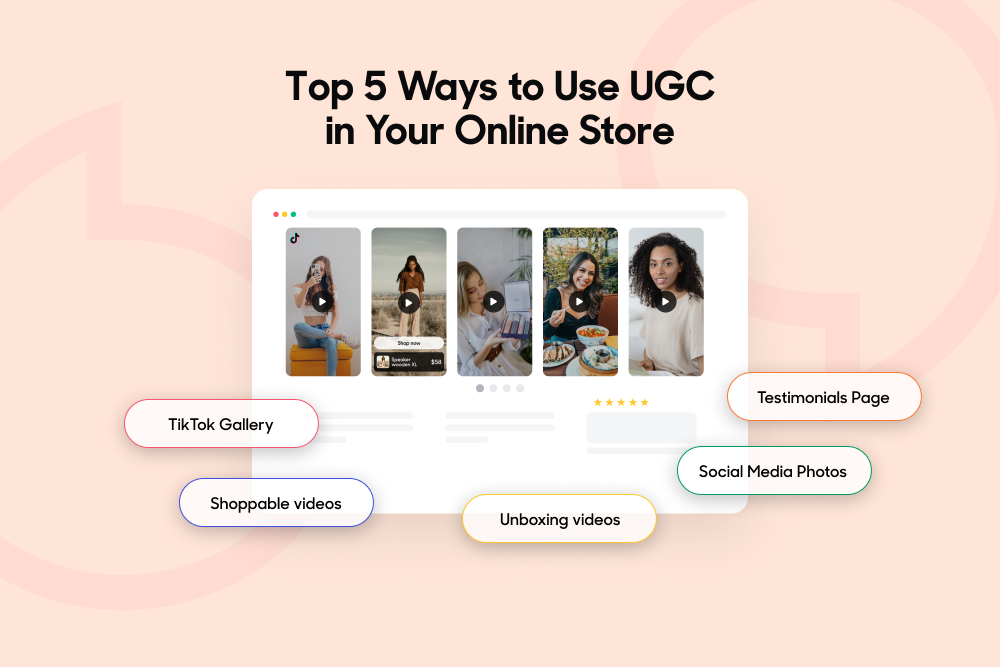 What Is UGC?
UGC is User-Generated Content which is created by individuals. The content can be in a variety of forms such as text, photos, videos or podcasts. Here are the most common types of UGC:
Reviews and Ratings
Reviews are the most common form of UGC. Reviews can be given as star ratings, comments, pictures and videos.
Testimonials
While reviews are a quick overview, testimonials are a longer, more in depth story about a customer's experience. These are usually inspirational stories that go into detail of before and after the use of a product.
Unboxing Videos
Subscription companies offer customers more than just a product, but the experience of opening a gift and the element of surprise. Audience members enjoy watching unboxing videos as a way to discover new products. Another reason for the popularity of unboxing videos is for potential buyers to verify the quality of a product before purchasing it themselves.
Entertainment
Most of the time UGC isn't centered around a product but is just created for pure fun – like this Mission Impawsible TikTok.
How Is UGC Different From Influencer Marketing?
Influencer-Generated Content is motivated by material compensation such as money or services. When an Influencer is being paid to advertise a product, their opinion becomes biased and less trust-worthy. According to a Stackla report, "UGC was shown to be 8.7x more impactful than influencer content and 6.6x more influential than branded content in consumers' eyes – with 79% of people saying user-generating content highly impacts their purchasing decisions."
Benefits of UGC for eCommerce
With shopping moving online and there being more options to choose from, consumers look at brand trust to help them make decisions. A potential buyer wants reassurance they are getting a quality product and superior service. User-generated content such as reviews and unboxings help buyers make decisions, as well as helps online stores increase sales. Below are a few examples of the benefits of UGC.
Builds Trust
User-Generated Content is the most trustworthy form of marketing available. In Nielsen's 2021 Annual Marketing Report, 89% of consumers trust recommendations from people they know and 71% trust opinions from influencers. Comparatively, branded content such as online banner ads and ads on search engine results were less likely to be trusted.
Creates Lasting Loyalty
Humans have a need to feel seen and heard. When customers feel recognized and validated on an individual level by a company, they form a loyalty to the brand. "43% of consumers say they would be more likely to continue engaging with and purchasing from a brand if it shared their photos or videos" (2021, Stackla).
Boosts Conversion Rates
When a customer views authentic reviews, they become more confident in their decision, leading to higher sales and less returns.
Increases Traffic and Brand Discovery
Search engines look for specific keywords associated with websites. As users leave reviews and write about the brand, those keywords naturally increase the SEO score of an online store. Additionally, when users post about their experience with a product on social media, it leads to greater brand discovery. Smartly.io reported, "82% of Gen Z consumers use social media as a way of finding new brands."
Saves Money
As user-generated content is voluntarily created, it is free marketing for a company.
Most Effective Platforms for UGC
The top social media sites of 2022 are:
YouTube

TikTok

Instagram

Facebook

Twitter

Reddit

LinkedIn
Reviews are also found on Amazon, Yelp and Google.
How to Get UGC
The first way to know if you have UGC is to search online. As UGC is created without incentives, there might already be content on your brand out there. However, there are ways to encourage consumers to create content without putting pressure on them.
Emails and SMS
Follow up on a sale with a personalized message to your customer. Get creative in asking them to leave reviews and unboxing videos.
Hashtags
Creating a hashtag unique to your brand will encourage social sharing. Fashion label ASOS created #AsSeenOnMe for customers to post photos of themselves in ASOS's clothing.
Challenges
Tiktok challenges can go viral within minutes. Create a specific task based on your product and share it with your audience. An example of a branded TikTok challenge was Colgate's #MakeMomSmile campaign.
Influencers
While influencer marketing is not UGC, a sponsored ad by an influencer could inspire their followers to do the same.
Effects of Including UGC on Your Online Store
Consumers actively seek out user-generated content such as reviews, unboxings and product displays to make decisions. When you put UGC directly on your product page, you are helping the buyer make a decision. Stackla reported the following:
"80% of consumers say they'd be more likely to purchase a product from an online store if its website had photos and videos from real customers."

"58% of consumers have left an ecommerce store without purchasing because the site didn't contain any customer reviews or photos."

"71% of consumers agree they'd be likely to purchase from an online store if the brand made it easy to click-to-purchase an item directly from an inspirational image."
Top 5 Ways to Use UGC in Your Online Store
Numerous studies show that user-generated content has an influence on purchasing decisions. Add UGC directly to your online store to have an immediate impact on sales.
1. TikTok Gallery
TikTok videos are an engaging way to show how popular your product is. TikTok videos can be compiled and displayed directly on your online store using Tolstoy.
2. Shoppable Videos
Feature customers using your product on your homepage. With shoppable video galleries, customers can click-to-purchase from inside your video.
3. Unboxing Carousel
Display customer unboxings directly on your landing page to showcase your product.
4. Social Media Photos
Gather photos in one place on your website to show testimonials from your customers. Common places to display social media photos are on the landing page, product page and in the footer of the entire website.
5. Testimonials Page
Having a page dedicated to clients sharing their stories can inspire future buyers to join the community.
References
Nielsen. (2022). Global Annual Marketing Report 2022. https://annualmarketingreport.nielsen.com/wp-content/uploads/sites/16/pdf/full_report_1666535864_1744248833.pdf
IAB. (2019, May). User-Generated Content for Marketing and Advertising Purposes. https://www.iab.com/wp-content/uploads/2019/05/IAB-UGC-for-Marketing-and-Advertising-FINAL-May-2019-2.pdf
Stackla. (2021, August). Post-Pandemic Shifts in Consumer Shopping Habits: Authenticity, Personalization and the Power of UGC. https://www.nosto.com/wp-content/uploads/2021/08/Stackla-Post-Pandemic-Shifts-in-Consumer-Shopping-Habits-Data-Report_FINAL_compressed.pdf
Smartly.io. (2022, May). How to Engage Gen Z on Social Media. https://www.smartly.io/ebooks/how-to-engage-gen-z-on-social-media