Interactive Shopping: 3 Types of Shoppable Videos You Need to Try Now

By

Kate Pauline Galagnara

Reviewed by

Joel Taylor
Updated March 14, 2023.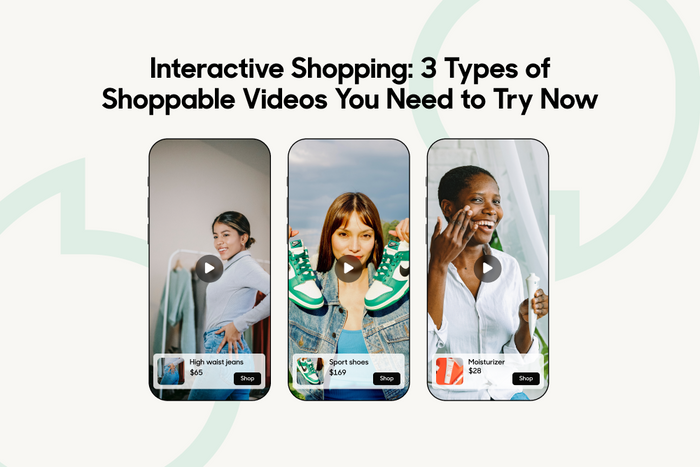 Are you tired of boring and underperforming ads?
Content marketing is changing, and e-commerce has become an increasingly competitive place. The shortening attention span of audiences means you only have a few seconds to get them to engage with your content. Brands need to think about how they create thumb-stopping content that gets the audience's attention and entices them to shop. That's where shoppable videos come in and combine video, product information, and selling tools into an effective marketing avenue.
And here are three unique types to help you engage and sell your products to your customers.
1. Product Demos
Product demonstrations are an excellent way to demonstrate the features and benefits of your product. Showcase how it works, what makes it unique, and how customers can use it in their everyday lives, all while allowing them to purchase products at the same time.
Product demos can also be used to highlight new features or make improvements to existing ones. Additionally, this offers important insights into user behavior which can help brands understand how customers interact with their products.
A successful product demo will give prospective customers an interactive experience with your product that they cannot get through traditional advertising methods and visualize how your product will fit into their lives.
Often, demo videos work best on skincare products, fashion accessories, and lifestyle products as customers can visualize themselves using what you sell.
The most common videos you may have been seeing online now are:
Unboxing videos

Try-on videos

How-to videos (like the one below)

And many more
2. Testimonials
User-generated content in the form of testimonials is an excellent way to market your product because this builds trust and credibility for brands. It's important to ensure that the testimonials you feature are real, authentic, and depict true stories of how the product has been used. Testimonial videos can be powerful tools for converting leads into customers as it encourages them to take action.
When creating a testimonial video, make sure to include visuals of the product in use and ask your customers' opinion on the product. Additionally, try adding interactive features like comment sections or polls, which will help you gain valuable insights into how customers are engaging with your products.
Testimonial videos are far different from promotional values as these feature real customers who are actually using the product.
3. Traditional Product Ads
Traditional product ads are still as effective today as they were years ago. This type of marketing video gives customers a concise overview of what the product is, who it's for, and why they should buy it. Well, in our case, traditional product ads can be spiced up as well—not just the usual traditional ad you may have seen on TV.
The most important part of creating a successful traditional product ad is to ensure that you highlight how the product solves your customer's problems by identifying and highlighting the features and benefits of your product and how it will make their life easier. Include visuals of the product that are aesthetically pleasing and engaging, as well as clear call-to-action buttons so customers know exactly what to do next.
Essentially, traditional product ad videos are an effective way to get your message across quickly; however, ensure that they're shoppable and interactive. Quit the manual process of redirecting customers to your site and let the video do all the selling. Add more to your traditional product ad and make them more shoppable for better results.
» Struggling to put your videos online? See the simplest ways to embed shoppable videos on Shopify
Bonus Types
Livestream
This type of social media video allows viewers to get a real-time experience with your product. It also allows them to see how it fits into their lifestyle and can help them make buying decisions on the spot.
This provides a platform for viewers to learn more about the products they are interested in, as well as ask questions and interact with the host in real-time. Additionally, livestreams allow businesses to build brand awareness and increase customer engagement by offering them a sense of exclusivity and urgency, which encourages them to shop.
» Keep up to date with social media advertising by reviewing the best Instagram shoppable videos
Runway Style
Runway, but make it online!
A runway-style video is a compilation of short clips that show your product in different contexts. This type of shoppable video can help customers get an idea of the different ways they can use and style your products, while also giving them an up-close view of the items. Runway videos let customers experience what it's like to own the product and encourage them to envision how it will fit into their lifestyle.
These videos also have a great viral potential as customers can easily share them on social media, which leads to more organic traffic and sales. More often good for clothing and fashion brands, such as a video titled 3 Ways to Style a Button-Down Shirt From Zara.
360-Degree Videos
360-degree videos are one of the most advanced and interactive types of shoppable content, allowing customers to virtually explore a product from every angle before they buy it and making them feel much more confident in their purchase decision.
This type of video is especially great for larger products, such as furniture and home décor. Although, 360-degree videos often need high-end tools to achieve the desired effects and results.
Catalog
As the name suggests, these types of videos are basically a digital catalog. They're great for businesses that want to showcase their entire range of products quickly and efficiently. Catalog videos feature multiple products in quick succession, giving viewers a bird's eye view of the items available in one go.
» Discover how to ensure that your shoppable video content stands out from the competition
Which Type of the Video Is Best for You?
Shoppable videos are an important part of any business's marketing strategy, regardless of the size or industry. By using different types of videos, businesses can reach new audiences, increase brand awareness, and drive sales. So what type of video will you use to engage your customers and take your business to the next level?
The answer depends on your unique needs and goals, but no matter what type of video you choose, it's important to make sure that it reflects the values and message of your brand. With the right shoppable videos in place, you can create an engaging shopping experience for your customers that will boost sales and loyalty.
» Ready to get started? Get Tolstoy for free