5 Best Instagram Shoppable Video Examples of 2022

By

Daniël de Jager

Edited by

Korana Braun
Updated December 14, 2022.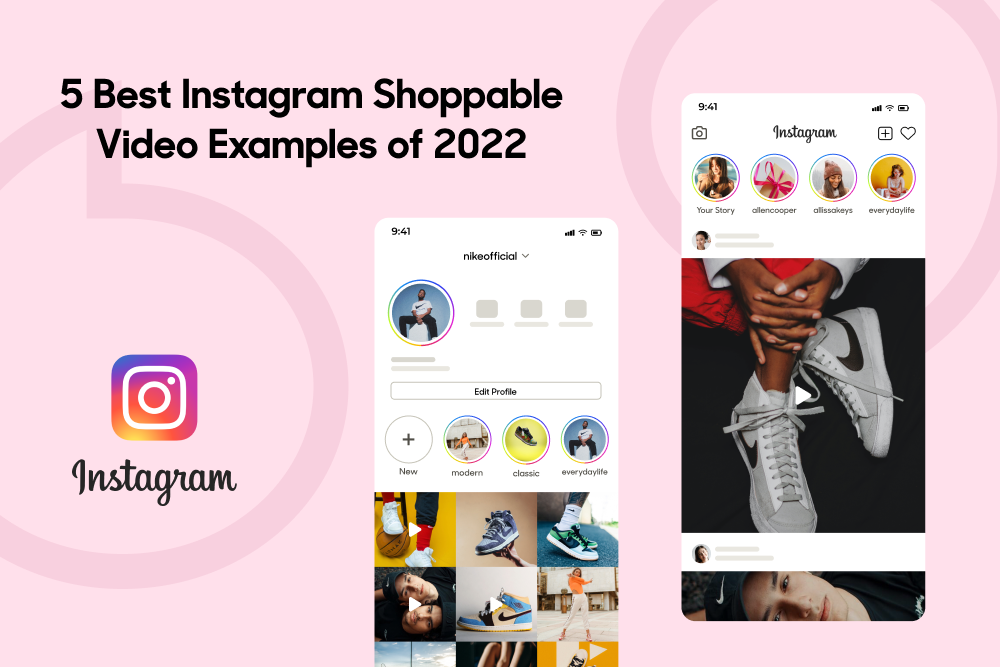 Shoppable videos are the perfect tool to engage today's social media-centric audience. They are much more effective than traditional ads that most online users have become desensitized to because they are in a format akin to user-generated social media content.
In a shoppable video, you can advertise a variety of products by showcasing them in an attractive and relatable environment. These videos are shoppable because there are shop or website links strategically placed in the video, making it convenient for the viewer to take action.
» Want to learn more? Check out our eCommerce guide to shoppable videos
1. POV Shoppable Video by Target
In this POV video, Target shows how some of their kitchen utensil and decoration products can be used to fill up an empty space in a kitchen.
This content is easily relatable for those looking to decorate their kitchens because Target not only shows them the products for sale but also how and where they can use them. Different products are combined to give a unique look that customers can copy.
Many lifestyle Instagram content creators produce videos like this to give their audience décor ideas and inspiration, so Target's shoppable video fits right in while also guiding the customers to the products they can buy to match the video.
2. Sephora's Product Showcase Shoppable Video
Sephora's shoppable video is a great example of media that intuitively showcases a product and how it's used, with before and after shots to boot.
While it's relatively obvious that this video is an ad, Sephora does well to highlight what the product is in the first few shots and then transitions to showing three women applying it. This showcase method is effective because it doesn't just show a picture of the product and how it looks for just one person, but many, while also adding attractive visuals from before to after.
» Curious about interactive videos? Here's how to make an interactive video for your online store
3. Nike's Interview Shoppable Video
Nike does a good job of marketing their new Lebron XX "Trinity" shoes to the new generation by introducing a situation where Lebron James gives them to his son and some previous generation Monarchs to an older "Father Time."
Nike's shoppable video introduces characters who frame their new shoes as desirable and makes it engaging by prominently featuring celebrities.
The first part has Lebron James giving his son the next-generation shoes, who then takes them to go "see what [he] can do in these." Jason Momoa, a famous actor dressed up as "Father Time," walks up and asks Lebron for the new generation of shoes. LeBron just gives him the older shoes and walks away, with Father Time going after him begging for the new generation, suggesting that the new shoes are quite desirable.
4. Collage Shoppable Video by The North Face
The North Face created a shoppable video with a special sticker video design that allows them to combine skiing images into an engaging Instagram reel.
The North Face advertises their skiing equipment by showcasing how extreme sports athletes are using them in one of the best skiing locations—the Alps. Pictures are cut out and combined as the video transitions smoothly from shot to shot showing the different types of The North Face equipment the athletes tested out with.
This video does great to engage the audience by not just showing the equipment, but also the element they're used in by professional athletes, increasing trust.
5. The Body Shop's Guide Shoppable Video
This The Body Shop reel is a practical example of how the step-by-step instructional video format can be used to showcase products in a way that's both relatable and convincing.
The Body Shop's video is advertising their new Edelweiss Liquid Peel facial cleansing product. It's often difficult to advertise such products without just looking like another generic beauty advertisement. To forgo this, they use a relatable actress and also give the customers useful information to show how easy it is to use the product.
It is also clearly communicated in the video what the product does (with before and after shots) without overloading viewers with information.
Final words
As you can see, shoppable videos are one of the best ways to engage a social media audience while providing them with an instant action they can take. Some of the world's top brands are already using these to great effect—are you ready to create shoppable videos yourself?
» Feeling inspired? Create shoppable videos with Tolstoy