Maximizing Conversion Rates: 5 Best Tips for Shoppable Video Ads

By

Kate Pauline Galagnara

Reviewed by

Joel Taylor
Updated March 14, 2023.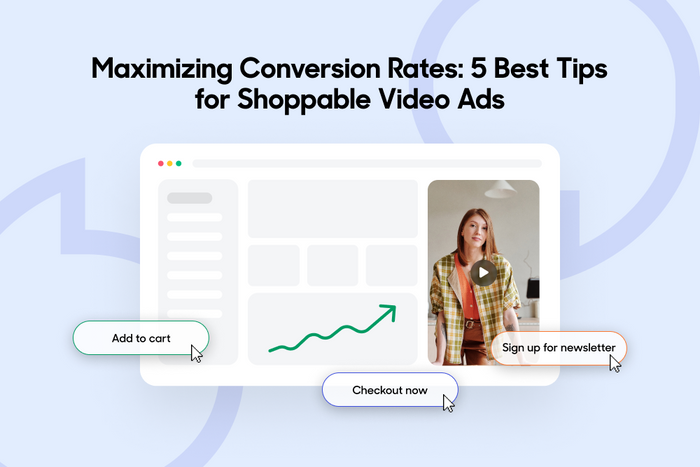 Your conversion rate is a metric that tracks how often website visitors take a desired action, such as making a purchase, signing up for a mailing list, or completing any other goal. It's important to marketers because it helps them measure the success of their campaigns and understand where improvements can be made.
Creating effective shoppable video ads is no easy task. However, with the right knowledge and resources, you can create highly impactful ads that convert well. Shoppable video ads can be a powerful tool for driving conversions, but they must be used correctly in order to have a positive return on investment. Here are some tips for getting the most out of shoppable video ads.
» Struggling with Shopify videos? See how to embed shoppable videos on Shopify
1. Keep Your Audience in Mind
You should always keep your target audience in mind when creating any kind of video to ensure that the content and tone are suitable for the people viewing it. When crafting shoppable videos, also consider the context and common customer needs within that space.
Always consider the customer's journey and what they are looking for in order to ensure the best possible outcome when it comes to conversions. Different target groups have different preferences and expectations, so it is important to tailor the content accordingly. Fashion shoppers might not care too much about how your products are made, whereas health nuts or vegan audiences will absolutely care about the ingredients and manufacture process.
2. Make Your Product Easy to Access
Once your shoppable video ad has attracted viewers, you want to make it as easy as possible for them to access the product or service. To do this, it's important to ensure that there is a clear call-to-action within the video itself that can direct viewers to the website or landing page where they can purchase the product or service.
In addition, you should use clear visuals to direct viewers to the location where they can buy the product, such as arrows, tags, or words.
Here are a few ways you can start doing this:
Include an action button at the end of your ad that directs viewers to the product page

Place merchandise prominently within the video in order to draw attention to it

Use annotations and tags to mark specific items in the video, linking them directly with their respective purchase pages

Consider including

interactive elements

such as rollover or clickable images or videos that activate a link when interacted with
» Not convinced? Discover the ways that interactive videos can increase sales
3. Put Effort Into the Production
It goes without saying that you want your shoppable video ads to look professional. Invest time and effort into producing quality videos that feature high-definition images and smooth transitions as this will help attract more viewers and have a greater impact on the audience.
Additionally, ensure the audio is clear and of good quality, which can make a huge difference in the overall success of your video ad. You don't need expensive equipment, but remember the important things that determine a video's quality:
The camera you're using (any decent smartphone camera can suffice)

The formatting (mp4 is the best for this type of video as other formats may reduce the resolution and playability)

The lighting (natural light where possible and a three-point light for low-light areas works best)
4. Keep It Short and Sweet
Finally, one of the most important things to consider when creating shoppable videos is their length. While some people may be willing to sit through longer videos, most viewers will have a short attention span and won't watch for more than a minute. Therefore, it's best to keep your shoppable video ads short.
Younger generations often prefer shorter videos, such as those on TikTok and Instagram Reels. This preference can be attributed to the rise of digital media and its impact on how young people consume content. In a world where attention spans are shrinking and people are more likely to scroll through their feeds than sit down to watch a whole movie, short and sweet is the way to go.
» See our top short shoppable video examples
5. Have a Plan
Like any other marketing strategy, your shoppable video ads should have a plan. Start by setting objectives and goals that are aligned with your overall business objectives. Then, identify the target audience you want to reach and determine your budget. This will help ensure that you create content that is tailored toward achieving those specific goals and reaching the right people.
Finally, figure out the best platforms to share your content on and how you plan to measure success. Track performance metrics such as views, clicks, and conversions to understand how effective your campaign is, and adjust accordingly. Run A/B testing to identify the methods that work best for your business.
Start Creating Videos that Are Guaranteed to Increase Conversions
Shoppable videos are a powerful tool for driving sales and conversions. By following these tips and putting in the effort to create high-quality shoppable video ads, you can ensure your campaigns succeed. With the right approach, you can use shoppable videos to reach new customers, increase engagement, and boost sales.
» What are you waiting for? Start creating videos with Tolstoy that are guaranteed to increase conversions