Video and Social Commerce—the Future of Retail
Updated February 20, 2023.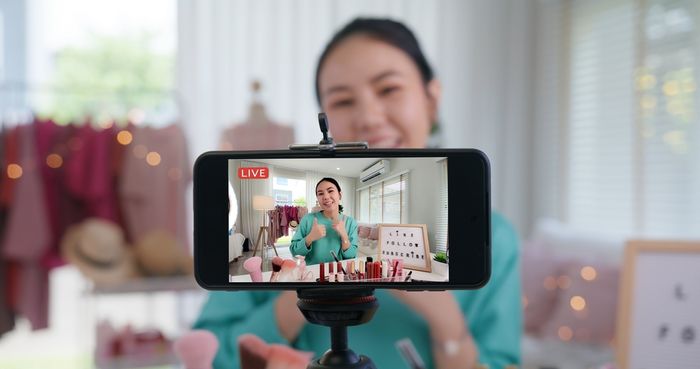 Written by Dov Kauffman, Co-Founder and CEO of Tolstoy
Around 3.5 billion people—just over 44% of the world's population—use social media in some form. Social platforms are the entry point for many people's online activity, from news, entertainment, communication, and now commerce. This only intensified following the onset of the COVID-19 pandemic.
Consumer expectations for content have evolved since the inception of social media, and the growth in popularity of video means an increasing number of people consider it the new norm. The exponential growth of TikTok and free access to online video content suggests that toward the end of 2022, over 82% of all consumer online traffic will be spent viewing video content. Recent statistics also reveal that the average person spends nearly two hours a day watching videos, and video posts attract 48% more views than static posts. These subtle shifts to video across multiple platforms is a sign of more significant shifting trends in consumer behaviour—and that the future of ecommerce lies in video content.
Social commerce provides an innovative new way to buy and sell products and is founded on the trust provided by social connections. It's a small step to alter traditional retail into a people-powered retail revolution. Moreover, it's highly successful and simple. Why? It seamlessly blends social experiences and ecommerce transactions through a single platform. And it's set to sweep the world, growing into a $1.2 trillion wave of change by 2025.
Unlike a conventional web-based ecommerce operation where products and services are showcased via images and text with a separate shopping cart, contact information and customer service page, video ecommerce is an all-encompassing experience centered around the customer. It's for this reason that the medium is poised to replace traditional web stores to become the 'new normal' of buying and selling online. This will impact every brand, retailer, and platform business.
Shoppable Videos: The New Driver Behind Purchasing Decisions
Shoppable video is rapidly transforming the ecommerce storefront as businesses realise the tremendous potential of this incredibly effective tool. From web searches to shoppable feeds (embedded video feed on an ecommerce site as a stories, Carousels or widgets), video is increasingly driving purchasing decisions with conversion rates of up to 30% and an incredibly positive return on investment.
Fascinating statistics show that shoppers who view video content are 1.81 times more likely to purchase than non-viewers. Google is also a big fan of video content, being 53x more likely to rank a website with video embedded. Video is widely accepted as a crucial part of cross-channel promotion and pulls in more than its fair share when it comes to conversion rates.
What does this all mean for brands, retailers, and platforms? One thing's for sure: social commerce is a model they must embrace. For platforms, it opens new revenue streams just as growth in digital advertising is expected to slow. For retailers, there are opportunities to develop new types of shopping experiences by meeting their customers where they hang out online, and by connecting in new ways and engaging influencers/creators. And for brands it means embracing the shift from big to small, empowering small businesses and engaging directly with consumers through social platforms.
Getting started with video doesn't have to be complicated or difficult. With just a few simple tips, you can create videos that are both informative and engaging.
Here's 3 Tips to Help Get You Started With Video:
1. Focus on the videos that were successful on your socials
No need to stress over developing a well-crafted post when you already have a repository of content available. Revisit successful Instagram Reels or TikToks and edit to include product tags. Be sure not to overwhelm your followers—remember that customers want to build relationships with brands through trust and connection, not feel like they're being bombarded with advertisements.
2. Consider the production value of your videos
You don't have to be a high-budget Hollywood movie maker to create a high-quality video production, but make sure your video is professional and presentable. Invest in good equipment and software and take the time to familiarise yourself with everything. After all, user-generated content and creators' content gets the most engagement online, and engagement is critically important for a brand's success.
3. Keep it simple
It's time to shine. Show your brand's unique personality, show them how to use your product, and make them fall in love with your business with eye-catching videos. Keep it as simple and authentic as you can!
It's undeniable that the future of commerce is digital, specifically through interactive and Shoppable videos, and Tolstoy is quickly positioning itself to help businesses gain market share of the lucrative Gen X and Gen A segment. The advantage is that merchants and retailers have the means to harness the power of video-based ecommerce independently of social media platforms. As consumers spend more time online engaging with video content, the opportunity is ripe for brands to convert them into lifelong customers, and Tolstoy stands to deliver.
Ready to add video commerce to your site with 1 click? Visit https://www.gotolstoy.com/