How Shoppable Video Is Shaping the eCommerce Storefront

By

Staff Editor
Updated February 13, 2023.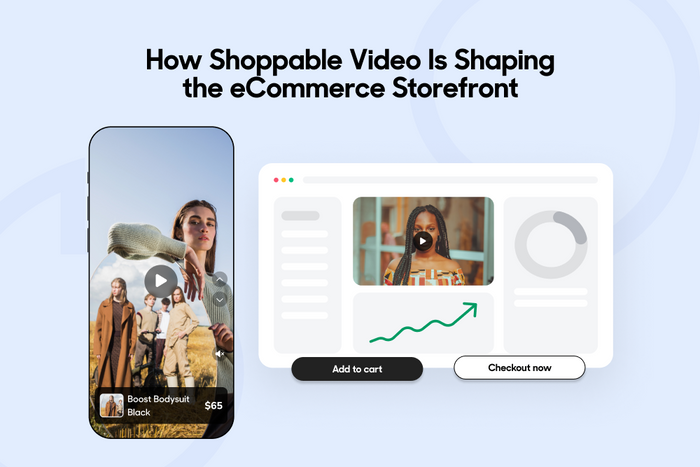 Shoppable video is rapidly transforming the ecommerce storefront as businesses realise the awesome potential of this incredibly effective tool. From web searches to livestreams, video is increasingly driving purchasing decisions with conversion rates of up to 30% and an incredibly positive return on investment.
As worldwide ecommerce sales are projected to skyrocket from $5 trillion to $8 trillion dollars by 2026, shoppable video is expected to make up the bulk of these sales.
Unlike a conventional web-based ecommerce operation where products and services are showcased via images and text with a separate shopping cart, contact information and customer service page, video ecommerce is an all-encompassing experience centred around the customer. It's for this reason that the medium is poised to replace traditional web stores to become the 'new normal' of buying and selling online.
As the established default expression of the internet, video and video-centred online shopping satisfies consumer demand for a more sociable, interactive, and entertaining shopping experience. According to recent Hubspot data, the number of people watching video online has doubled since 2018. Further surveys revealed 55% of customers conduct research by watching product videos before they make a purchase while 88% of customers say they've been persuaded to buy a product or service by watching a brand video.
Businesses are responding by taking a video-first approach to ecommerce with behind-the-scenes livestreams, video consultations, and personalised product recommendations. Thanks to the burgeoning video ecommerce industry, brands have the means to create a seamless shopping experience from reviewing products and services to checking out. Viewers simply click on embedded Add to cart or Shop now buttons as they watch the video which will then redirect them to where they can make a purchase without ever leaving the video page.
Shoppable Video Helps Brands Craft a Better Online Shopping Experience Through Data
As its own self-contained ecommerce platform, shoppable video which encompasses interactive video shopping and live video shopping causes minimal disruption to the customer's enjoyment of video content. The winning formula combines digital window shopping and entertainment to ensure customers get the full benefit of a fun shopping experience without having to leave the platform.
The entire buying journey is simplified by the availability of in-built links to browse, select, examine, and buy products. A key advantage to an all-in-one platform is that brands will have greater access to customer data – every touchpoint provides information on the business' performance including which channels and products do best. Other analytics like conversion data, click-to-view, click-to-buy, and click-to-share provide a solid starting point towards maximising customer engagement and repeat business.
Shoppable Video Is Embraced by Gen X and Gen A
Immersive video is ideal for nurturing a deeper and more authentic connections with customers and no other group is more receptive than the latest generation to come of age. Gen Z and Gen A are the first wholly digital generation, and their beliefs, attitudes and behaviours significantly differ from their predecessors. While TikTok has a large cohort of older users, 60% of its users are Gen Z. And if there's one defining trait about this group, it's that they really love short-form videos.
Gen Z shoppers seek novelty, authenticity and most importantly, social proof. According to a study by the Influencer Marketing Factory, 97% of Gen Z say they use social media as the chief source of shopping inspiration. Eye-catching video content, preferably with a raw and unfiltered aesthetic fit in with Gen Z's preference for brands that demonstrate they're up to speed with internet culture.
Credibility is another important factor to Gen Z shoppers. Not only do they expect sophisticated and personalised content, they also want to get a good idea of what it is they're buying – the fabric and feel of materials, how product colours look in different lighting, how they fit on models with bodies similar to them. Video ecommerce allows brands to cater to these requirements and more.
Shoppable Video Harnesses the Power of Social eCommerce to Sell More
Mindful of younger generations' preference for peer-reviewed products and recommendations, brands are investing more in influencers to get their messages across. Once again Gen Z are the leaders of video-driven ecommerce: statistics show they use TikTok to search for products more than even Google. Socially-driven video commerce not only has the power to go viral, putting brands in front of new audiences, it also enables cross-promotion with trusted influencers.
As more shoppers acclimatise to new technologies and the increased interactivity of video formats, shoppable video will become an entrenched part of online shopping, forever changing the ecommerce storefront.