7 Brilliant Ways Videos Can Increase Your Conversion Rates

By

Staff Editor

Reviewed by

Joel Taylor
Updated January 3, 2023.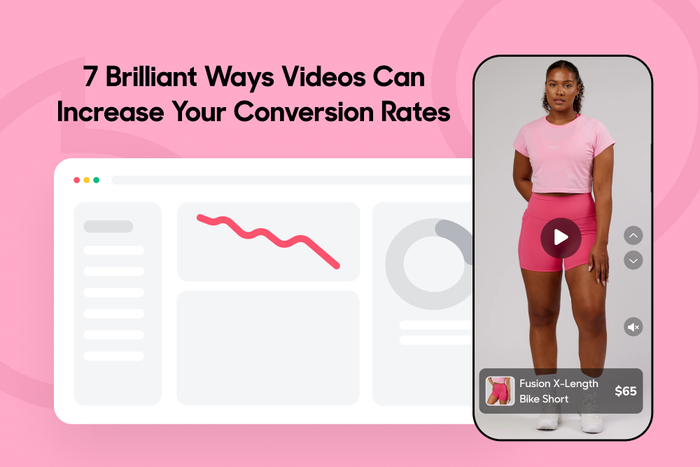 There's one tool you may not be using that can help boost conversions like crazy—interactive video. Here's what you need to know.
Are you looking for ways to increase your conversion rates? There's one tool you may not be using that can help boost conversions like crazy—interactive video.
As virtual visitors scroll through your website or emails, passive content like images and text can be easily ignored. But interactive video engages viewers in a way other content can't. (Just look at how much people engage with platforms like TikTok and Instagram—people love video content!)
Videos allow you to connect with your audience on a personal level and tell your story in a way that words and still pictures simply can't match—wondering how it works? In this article, we'll explore seven ways videos can supercharge your eCommerce conversions.
What Factors Drive Ecommerce Conversion Rates?
When it comes to converting an audience, you can't expect things to happen on their own. Instead, there are four essential elements you must absolutely nail to make those conversions happen.
Audience Engagement
If your target audience is not engaged with your content, they are much less likely to convert. Think of any successful brand in your niche, and you'll find tons of people liking, commenting, and interacting with the content that the brand produces.
That's where interactive videos come in—product videos are an excellent way to elevate engagement and keep your audience interested in what you have to say.
Trust Building
One study found that using video on a landing page can increase conversions by as much as 144%. That's huge!
And it makes sense—a video on your page can quickly show your target audience who you are and what your brand is all about. When your audience has an opportunity to bond with your brand face-to-face, it amplifies the trust-building process.
Establish Authority
Demonstrating expertise in your industry is critical if you hope to gain an edge over the competition. But how exactly do you establish yourself as an ultimate authority—especially when you're a newer brand?
That's where video platforms can help. They help skyrocket your authority by featuring testimonials from satisfied customers or expert interviews, allowing you to build authority with seamless efficiency.
Communicate Your Value
Finally, you have to instill the value of what you offer into the minds of your audience—fast. Some studies suggest you have about eight seconds to communicate your message before your audience disengages.
But how in the world can you explain the value of your offering in just eight seconds if your audience has to read? Videos can help communicate your value with lightning efficiency since human brains can process visuals thousands of times faster than words.
7 Ways Videos Can Drive Your Conversion Rates Through the Roof
Now that you know what it takes to drive conversions, let's dive into seven specific ways that videos can help amplify your conversion rates like no other medium.
1. Video platforms help you inspire confidence in viewers by allowing you to share reliable, authentic user-generated content.
LSKD Activewear x Streetwear allows users to showcase their purchases through UGC videos. Seeing real buyers wear the products is essential for sportswear—viewers now spend triple the amount of time on the website, as they're able to conveniently swipe through authentic videos of products they love.
A study by Social Media Examiner found that nearly 70% of respondents said that watching a video testimonial was helpful when making a purchasing decision. That's because user-generated content makes a huge impression on viewers by showcasing what your products look like in the real world, ultimately boosting trust and authority.
2. You can build memorable connections through your brand story.
Your brand story is the unique way that you connect with your target audience. It sets you apart from the competition and helps customers understand why they should choose you over someone else. And video is the perfect platform to tell your story authentically in a quick, memorable, and engaging way.
3. Videos make shopping feel seamless by allowing users to shop while they watch.
One of the best things about video is that it allows viewers to shop while they watch, which makes for a hassle-free, user-centered shopping experience. People can add products to carts and even complete the check-out process without leaving your videos. It's like Tiktok or Instagram Shopping—directly on your website.
4. You can take a peek into the mind of your target audience with polls and questions.
One of the keys to success is making sure that you're constantly asking questions and getting feedback from your target audience. Only then will you be able to see what's working, what's not, and how you can improve your videos. When people know that you're taking the time to interact with them and get their feedback, they'll be more likely to see your videos as valuable, and that's when you start seeing those conversion rates jump.
5. Video platforms allow you to clarify the benefits of your product through real-time Q&A sessions.
DEUX allows dessert lovers to satisfy their sweet tooth without throwing off their diet goals. But their products require a bit of background knowledge for buyers to get the most out of their purchase. Rather than force buyers to read through paragraphs of user instructions, a fun video communicates everything buyers need to know while staying true to the DEUX brand voice.
Q&A sessions are a great way to increase conversion rates by providing viewers with an opportunity to get their questions answered in real time. This is especially useful for products that are complex or have a lot of features. By seeing the product in action and asking questions, viewers will be much more likely to convert.
6. You can adjust your sales strategy on the fly with insightful real-time analytics and metrics.
Video platforms come with a wealth of analytical data that can be extremely helpful in fine-tuning your sales strategy. By understanding how people interact with your videos, you'll be able to see what's working and what's not. Then you can adjust your strategy accordingly to improve engagement and, ultimately, conversion rates.
7. You can simplify your workflow by integrating interactive videos with your entire stack.
Interactive videos can be integrated with your entire stack, from your website or Shopify store to your email campaigns. This allows you to simplify your workflow and grow your efficiency. When everything is working together seamlessly, you'll be able to increase conversion rates with engaging, interactive videos in no time.
To Sum It All Up
If you're not using video platforms to connect with your audience and market your products, you're missing out on a huge opportunity! Video content:
Allows you to use UGC to your advantage—show real buyers using your products, gain more testimonials and social proof, and boost trust between your brand and users.

Make a lasting impression by showcasing your brand story to build loyalty with followers.

Turn viewers into customers by allowing them to shop as they scroll through product videos.

Get real-time feedback from viewers and make adjustments in the moment to increase sales.

Host hassle-free Q&A sessions to make authentic connections with your audience and boost conversions.

Integrate with your full stack to simplify your workflow.
The Bottom Line
By following the tips in this post, you can start using videos to increase your conversion rates and elevate your business to the next level.
Looking for a stunning and intuitive platform to help you get started? Tolstoy is the best way to create interactive videos that keep your viewers engaged. Our easy-to-use platform makes it simple for anyone to create beautiful, engaging videos. Viewers will love the interactive experience, and you'll love how easy it is to create them.
Start bringing your brand's stories to life like never before. Get Tolstoy for free today.