6 Best Interactive Marketing Tools to Boost Customer Engagement in 2023

By

Daniël de Jager

Edited by

Joel Taylor
Updated December 14, 2022.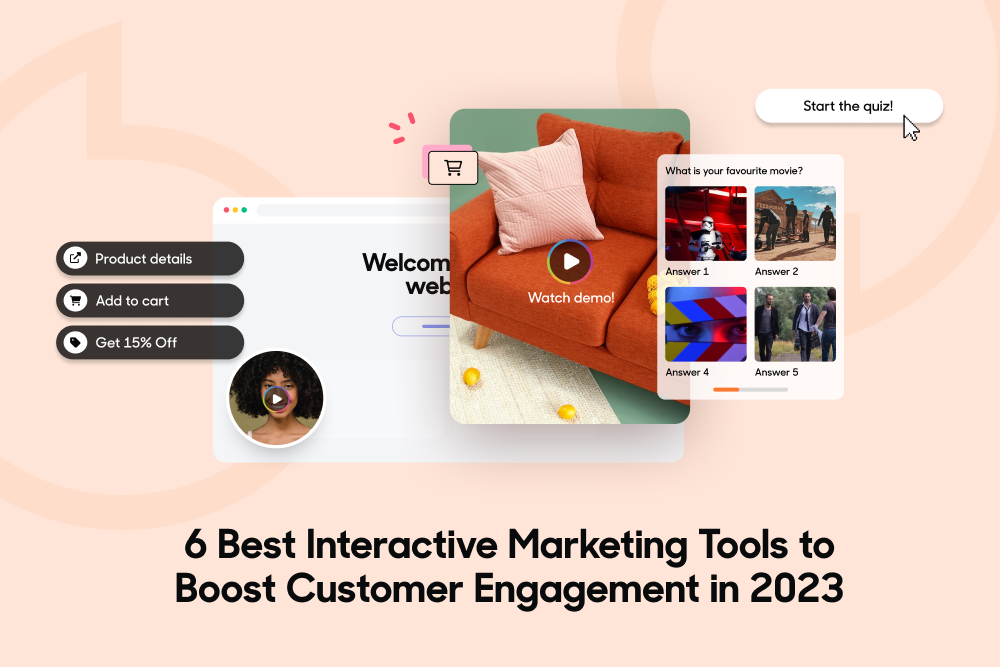 With more consumers opting to buy online over physical stores, the e-commerce scene is becoming more lucrative by the day. However, with great opportunity comes great competition, and thousands of online stores around the world are fighting for customers' attention.
The latest technology helping online businesses stand out is interactive marketing. These marketing tools initiate two-way conversations with customers when they visit a website, giving them a personalized experience that engages deeper than ever before. Online stores discover their customers' preferences as they interact with these tools so that they can produce even better-targeted content for future campaigns.
» The best tools require the best strategies: Discover the most effective interactive marketing strategies.
As customers' shorter attention spans demand more immersive engagement, interactive video stands out as the best tool to capture an audience as it stimulates their audio and visual senses.
Tolstoy uses interactive video technology that leads customers on a personalized, face-to-face narrative as they follow on-screen prompts. This way, customers don't feel like they're wasting time watching an entire video when they only need one snippet of information tailored to their personal choices.
Creating an interactive video with Tolstoy is straightforward: just record a few short videos and tie them together with Tolstoy's simple interactive video builder. Tolstoy then collects responses to the video, giving over control of the conversation to real agents. You get access to a full and powerful analytics dashboard that provides in-depth metrics. Tolstoys can be embedded in a website, a video chatbot, emails, and social media, engaging customers wherever they are.
» Ready to get started? Learn more about our interactive video and shoppable video services.
Ceros is a suite of creative tools for creating interactive content with measurable results.
Content creation will become a breeze as Ceros integrates with a business' creative process. With its Studio, MarkUp, Editor, and ChartBlocks apps, both experienced designers and those new to the game can design, publish, and receive feedback without needing any coding knowledge. All their products integrate well to help you supercharge the creation process.
Outgrow is an interactive content marketing platform with a focus on driving leads and conversions.
With Outgrow, you can design personalized quizzes, surveys, polls, and chatbots that engage customers to discover their needs and determine whether they're qualified leads. Outgrow has an entire premade template library to provide inspiration and automate engagement.
Typeform is an online form and survey-building software that aims to save your customers from mundane experiences.
Surveys often feel tedious. Typeform seeks to fix this with forms that are designed to impress. Form builders are given creative freedom to design beautiful, brand-friendly, and interactive interfaces backed by solid conditional logic to improve flow.
Videoly is a video content provider that finds the best product videos and connects them to online retailers' product pages.
Brands can use Videoly to streamline their video content distribution as it automatically connects videos to retailers' product pages. Everything from marketing videos, reviews, and user-generated content is brought together in one place and used to drive customer engagement. Videos provide an information-rich experience and give customers the confidence to purchase.
Whisbi is a live commerce platform providing a plethora of different digital marketing tools to help businesses boost lead volumes and quality.
Tools like Whisbi Engage increase conversion rates by providing customers with a more personalized and engaging shopping experience. Whisbi Boost Visitor Intelligence identifies ready-to-buy visitors so that sales agents can focus on high-quality leads. Overall, Whisbi leverages various online technologies to engage and convert potential customers.
Online Stores Need to Keep Evolving
Whether you're a small startup or a large enterprise, interactive marketing tools are sure to boost brand awareness and user engagement so that you can stay ahead of the competition. Online stores stand to gain much from simple changes like using interactive videos to showcase products. The online world is always evolving, it's crucial that you keep up to date.