Shop 'Til You Drop: Making Your Shoppable Videos More Engaging

By

Kate Pauline Galagnara

Edited by

Tamara Fodora
Updated May 5, 2023.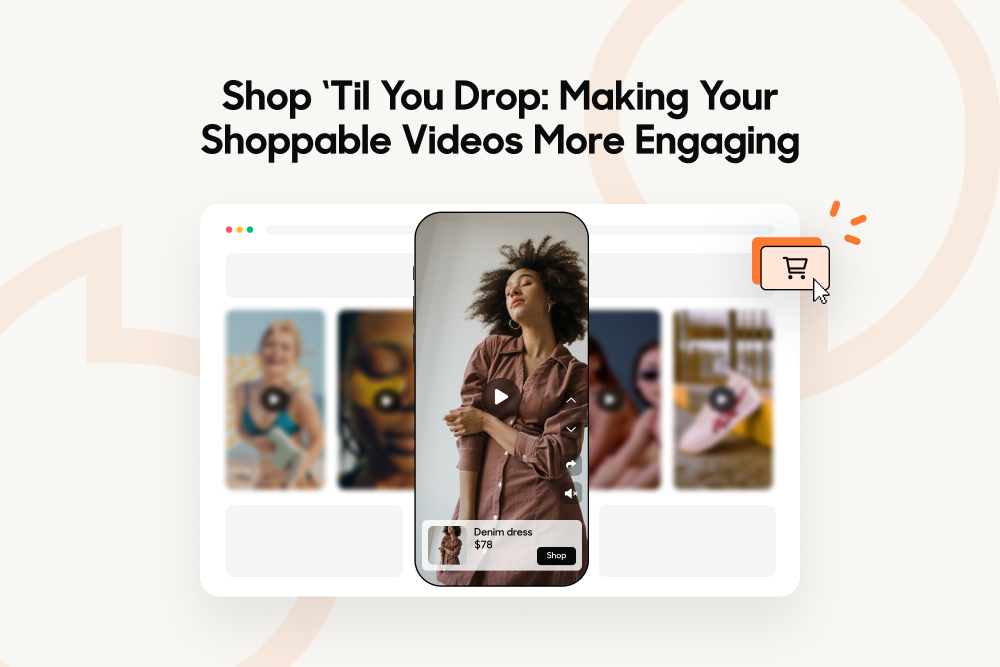 Video content has become increasingly popular among brands as a way to engage with their customers. However, maximizing engagement and conversions can often be challenging.
Fortunately, there are strategies that brands can use to make their videos more engaging and convenient for viewers. In this blog post, we'll discuss some of the best tips for making your video content more interactive and effective at driving sales.
So, if you're looking for ways to make your shoppable videos stand out from the crowd, read on!​
Why Shoppable Videos?
Research shows that a whopping 97.8% of US internet users aged 18-24 prefer watching videos. This is followed by users aged between 12 and 17, of which 96.2% like watching videos.
That's why it's so important for brands to create shoppable video content that resonates with their target audience and can be easily consumed.
Image credits to eMarketer
With shoppable videos, the viewer can click or tap a product they see in the video while it's playing, allowing them to quickly purchase items without leaving the video experience. This helps drive conversions and engagement, and it gives customers an intuitive way to buy products online.
7 Best Tips for Making Shoppable Videos More Engaging
From epic video content to interactive features, here are some of the best tips to help you make your shoppable videos more engaging:
1. Tell a Story
The biggest challenge that brands face is how to make their video content stand out from the competition. With video marketing taking over the digital space, it can be difficult to stand out and create videos that viewers pay attention to.
The best way to ensure your video content is engaging is by telling a story. For example, if you're selling clothing, tell the viewer how the product helped you look your best or overcome an obstacle in your life. This will help create a personal connection with viewers, which will make them more likely to engage with your brand.
» Read more about why telling a story is a great marketing strategy
2. Highlight Key Products
Another great way to make your videos more interactive is by highlighting key products in them. This will draw attention to these products, which can then be clicked on for easy purchasing. You can also include quick descriptions about each product or service you're showcasing in order to give your viewers more information.
This is a good way to create shoppable content without disrupting the flow of the video.
3. Keep It Short and Simple
When it comes to creating engaging video content, less is definitely more. A recent survey has shown that viewers are more likely to engage with short-form videos than long ones. Short videos can help you ensure that your viewers stay engaged throughout the entire video and don't lose interest halfway through.
Think about social media channels like TikTok, Shorts, and Reels—these platforms are all about short but powerful video content. So, keep your videos concise and get straight to the point!
» Looking for inspiration? Check out some of the best short shoppable videos
4. Use Captivating Visuals
People often watch videos to be entertained, so make sure you're using captivating visuals to draw viewers in and keep them interested. You can use creative animation, dynamic lighting, or other visual elements to make your video content stand out.
5. Include Interactive Features
Interactive features can be a great way to keep viewers engaged and drive conversions. Whether you're introducing polls, quizzes, surveys, or product links in the video itself, there are plenty of opportunities for adding interactive elements to your video content—you just need the right interactive marketing tools for that.
6. Add Lively Audio
To further engage viewers, you can add catchy music or sound effects that will get people's attention. Adding a soundtrack is also a great way to set a specific mood. Additionally, you can also add a third-person voice-over to spice up the video, which can help emphasize key points and make it easier for people to understand the message.
7. Maximize Mobile Format Videos
The majority of video content is consumed on mobile phones and tablets. We can say that video and mobile go hand in hand, which is why it's important to ensure your content is properly formatted to fit these platforms. In fact, 90% of consumers watch videos on their mobile.
This implies keeping the video short and concise, following the vertical format, and making it easy to find the information they need. In addition, you should consider adding interactive elements that are specifically designed for a mobile-viewing experience.
» Want to learn more? Read our 5 tips for maximizing mobile engagement
Engage Your Audience Today!
Creating engaging video content is essential for businesses today. By following the tips above, you'll be able to create videos that will increase the chances of your viewers actually making a purchase.
And if you're thinking of investing in shoppable videos, you may be glad to know that you don't need a massive budget for that. With the right tools and tips in place, and with the right platform such as Tolstoy, you can produce fantastic interactive and shoppable video content that will help you reach your target audience.
So what are you waiting for? Start creating engaging video content today!