Video Prospecting Checklist: 5 Beginner Mistakes to Avoid

By

Rebekah Brace

Edited by

Michelle Meyer
Updated December 14, 2022.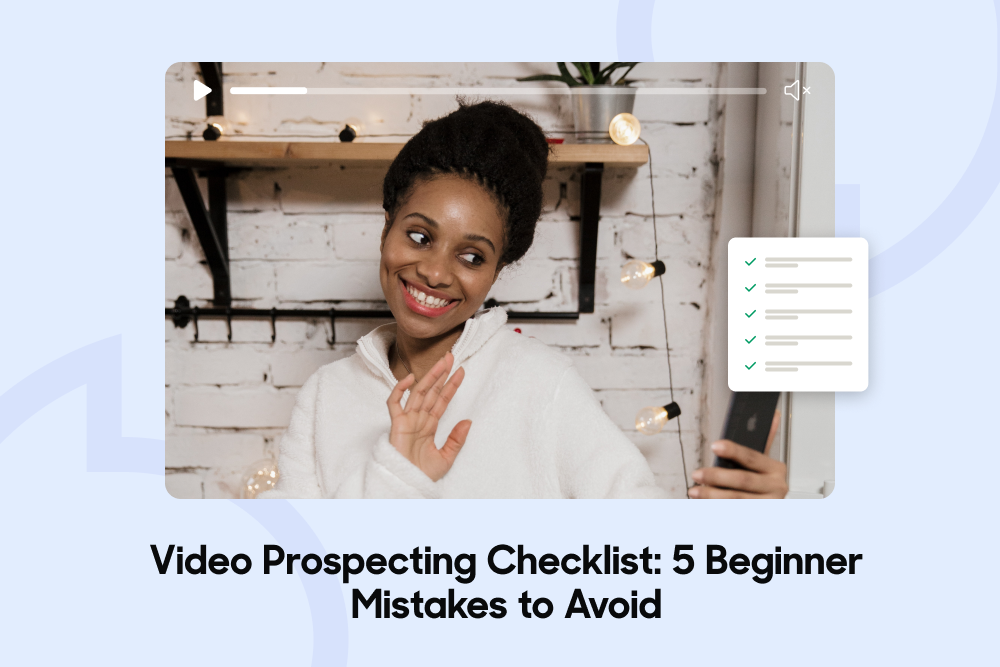 Any successful company knows they need to be constantly searching for new sales opportunities to stay one step ahead of the competition. However, finding new prospects for your organization can often be easier said than done. Today's consumers are overwhelmed by huge amounts of information in a growing digital landscape, so keeping them engaged takes significant work.
Video prospecting can be a valuable tool for many brands struggling to build their lead pipeline. It's a powerful way to capture the attention of prospective leads and connect with them on an emotional level. Videos thar are engaging, dynamic, and interactive can be even more effective than traditional sales methods such as email and social media.
The challenge is knowing which mistakes to avoid in your prospecting journey. Here are some of the errors you may need to be aware of.
» Can interactive videos be used for other sales strategies? Discover the versatility of interactive videos in marketing and sales
1. Long Accompanying Text
Whether you're sending videos via email or social media, it's important to remember your aim is to capture the attention of your customers as quickly as possible with concise, straightforward information. Huge amounts of accompanying text can often overwhelm viewers and convince them not to click on your video in the first place.
There's also a risk the text you include alongside your video could simply repeat everything you've been saying in the video message itself. Text included with videos should add context to the video and get straight to the point. You could even consider using bullet points.
2. Rambling Statements
While videos can be a powerful tool for both sales and marketing, they work best when they get straight to the point, highlighting the value you can offer your customer. Because of this, it's important to make sure you don't talk aimlessly in your content.
Get straight to the point from the moment your customer clicks the "play" button by telling them what you're going to do for them and the benefits they can expect. It might be helpful to prepare a script before you start recording your video, to ensure you don't go off track.
3. Poor Production Quality
Your video is one of the first opportunities you'll have to make a resounding and lasting impression on your target audience. It's important to ensure you're sending the right message about yourself and your business with a video that looks and sounds professional. Ensure you have the right environment set up for your video, with plenty of natural light and a clean background.
Check your microphone and video connection before you start recording and ensure everything looks and sounds as clear as possible. In some cases, it may be necessary to invest in additional lighting, pop filters, or a higher-quality camera.
4. Sticking to One Form of Media
Although simple face-to-face videos can be excellent at engaging your audience, they can quickly become visually boring. To keep your audience engaged, it's worth experimenting with adding other types of media into the recording. Using a video editing tool, you can embed everything from graphics and charts to animations and pictures into your video.
You could also bring more context and depth to an explanation by sharing your screen and walking your customers through a piece of software and how it works. Some salespeople even use virtual whiteboards to help get their point across with color and drawings.
5. Failing to Learn from Your Videos
Sending prospecting videos can be a fantastic way to engage your audience, but the only way you're going to find out which strategies are delivering the right return on investment is with reports and analytics. Using tools to track how much of a video your customer watches, how many people click on your video, and how many responses you get will give you some useful insights.
Based on the metrics you collect from your prospecting videos, you'll be able to plan more effective content campaigns for the future. For instance, you might find shorter videos are more likely to drive conversions than long ones, or that customers are more likely to convert from interactive videos.
Master Your Prospecting Videos
As one of the most engaging forms of online content, videos have the power to capture your audience's attention and accelerate conversions. As a prospecting tool, they can also help to strengthen the initial connection to your brand by giving your company a human face and voice. However, like any marketing or sales tool, it's important to learn how to use your prospecting videos effectively if you want to generate the right responses.
» Not sure how to get started? Let Tolstoy guide you through making interactive videos