5 Effective Interactive Marketing Strategies in 2023 [+ Examples]
By

Rob Elgar

Reviewed by

Michelle Meyer
Updated December 14, 2022.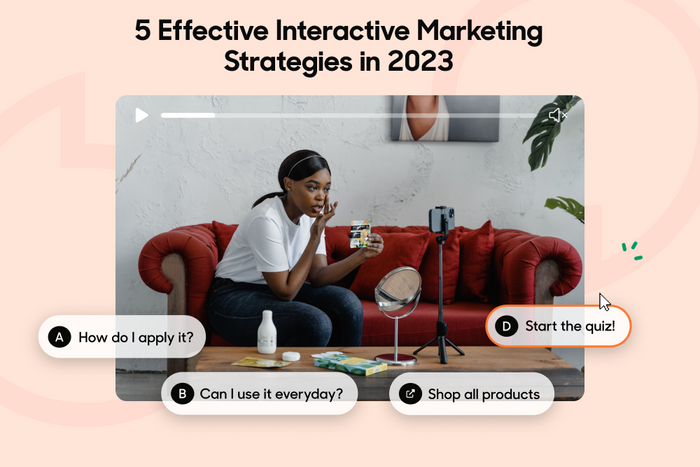 Static marketing is a thing of the past. Customers want to be able to connect and engage with a brand. This means that the traditional one-way marketing strategies of the past don't perform as well as they used to.
By using an interactive marketing strategy, you create a personalized one-on-one interaction with each client, allowing them to make decisions and engage with your brand. This promotes conversions, increases brand awareness, and ultimately provides a better opportunity to boost sales.
1. Product Demonstrations
Interactive product demonstrations allow potential customers to experience a product and all its features through a self-guided, clickable process.
By providing each customer with the opportunity of a personalized demo, they're able to view the product in a way that interests them, thus avoiding unnecessary information and potentially boring your customer.
A product demonstration can be as complicated as allowing a customer to explore the intricacies of an engine, or as simple as displaying different clothing items on different models with different body types.
» Struggling to promote your products? Increase product and customer engagement with Tolstoy
2. Virtual Reality
Virtual reality (VR) marketing incorporates the full immersion of a customer into a virtual world. This can connect a customer with your brand or product by engaging a variety of their senses, thus encouraging more interaction. VR lets you tell your story in a personal manner, create and imbed memorable experiences, as well as bring an entertainment factor to your advertising.
An example of how VR could be used as a marketing tool is by walking a visitor through a realistic replication of a studio where they can walk through rooms and view different pieces of art. This is instantly more entertaining than a customer scrolling down a static catalog and will encourage your visitors to spend more time viewing your products, interact with your brand, and ultimately increase the chance of sales.
3. Competitions
Competitions and quizzes are prize-driven strategies that encourage people to participate and engage with a brand in the hopes of a reward. Contests can help a business obtain multiple goals such as increasing brand awareness, encouraging customer loyalty, and increasing sales.
For example, competitions that encourage you to "share" something to enter are likely aiming to increase brand awareness, while competitions that provide prizes for the most loyal customers or for the highest purchase numbers are often trying to directly boost sales.
4. Games
Games are an ideal way to not only gain a person's attention but to hold it. Thanks to their interactive nature and the constant dopamine hits from completing small tasks, implementing games into your marketing strategy can significantly boost sales, increase awareness, and obtain customer information with little effort.
Not only are people more than willing to share their details when it comes to playing games, but they will also share achievements around social platforms which can further boost awareness. Moreover, games can be used to teach customers about a new product while keeping them engaged and constantly wanting more. A simple game such as spinning a wheel to win a prize can keep a customer coming back day after day until they win.
5. Interactive videos
Whether you're aiming to educate an audience about a product, showcase a catalog, recruit new staff, or simply send a user on a personalized journey, interactive videos are a unique marketing strategy.
Interactive videos allow you to send users on a unique journey where there's more of a person-to-person conversation or personal experience, as opposed to the linear, monologue that traditional videos create. By allowing viewers to ask the questions they want, or to see and interact with the products they're interested in only will save you scaling costs and time and provide you with more targeted leads.
For example, when using interactive videos for generating leads, you will be able to ask potential customers for their personal details, as well as many specifics you may need before you make personal contact. This will sift out the less serious clients, save time on repetitive questioning, and obtain essential information, all while ensuring your customer maintains a feel of personal touch and control.
» How do interactive videos work? Follow Tolstoy's simple steps to create interactive videos
Conclusion
Humans have a short attention span (that's increasingly becoming shorter), therefore, the need for interactive marketing strategies has become more important than ever. Without an engaged audience, your business and your brand cannot grow.