Shoppable Videos: 5 Ways to Make Your Content Stand Out
By

Rob Elgar

Reviewed by

Joel Taylor
Updated December 19, 2022.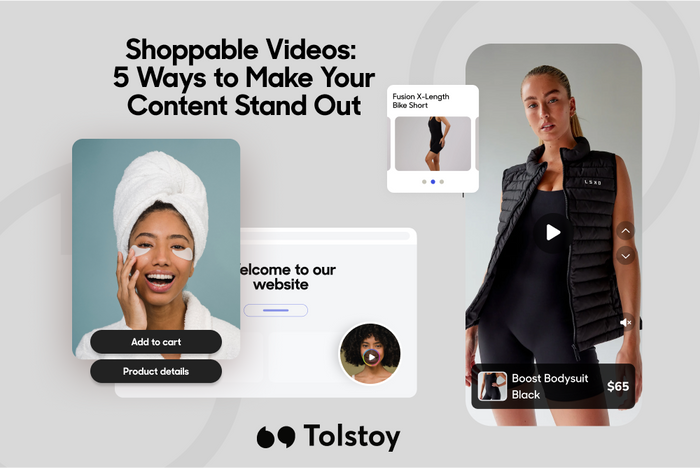 Shoppable videos are quickly changing the way online retail marketing is done. By using shoppable videos, customers can view, click, and purchase items without needing to leave the video platform. This massively simplifies the buying process, which in turn improves customer experience, boosts sales, and creates long-term brand and customer relations.
To make sure your videos stand out among the crowd and gain the viewer's attention, it's essential to make them visually appealing and interesting to your target audience.
» Have an eCommerce store? Read our guide to shoppable videos for eCommerce
1. Create a Relatable Storyline
When a video has a good storyline it takes us out of our bodies and into the immersive journey that has been created in front of us.
By creating a storyline that the customer can relate to, the message feels personal, and as though the video is speaking directly to the viewer. This can encourage viewers to take action as they are already "invested" in the storyline.
A great example of a fun and memorable storyline that stands out can be seen in this video. By comparing humans to birds and using a nature documentary-style voice-over, the IKEA shoppable video is made exciting and humorous while remaining relatable, as we all know the value of good sleep.
2. Experiment With Lengths of Scenes
Using variating lengths of shots will keep your video dynamic and interesting. If you use multiple scenes of the same length, viewers may become bored of the repetitive feeling. So, get creative—experiment with very short scenes to prompt questions and sales and longer shots to explain more complex ideas.
By adjusting the length of each shot, viewers will feel more like they are in a two-way, interactive conversation, as opposed to being told something from a video—this helps viewers connect and remain engaged.
This MARY & MAY CICA Soothing Sun Cream shoppable video is a great example where you can see how different scene lengths ensure the most important aspects are emphasized. And all this is done in a form of a review, with the option to buy the product immediately.


» Making videos for Instagram? Check out the 5 best Instagram shoppable video examples
3. Combine Different Camera Movements
Camera movements add excitement, emotion, and a real feeling to videos. By adding a variation of camera movements to your shoppable videos, you will make an already interactive video even more dynamic, which will help your content stand out.
In this shoppable video example by Adidas X Missoni, you can see how different camera movements are used to exaggerate the dancers' moves, creating a more immersive and intense experience.


4. Mix Shots From Multiple Perspectives
Taking videos from a single angle is simple, but also boring. The more dynamic your videos are, the longer viewers will stay, and the more likely they'll make a purchase.
By using different shooting angles in this Tolstoy X LSKD shoppable video, viewers will feel a greater level of immersion, become more engaged, and therefore take more action.


5. Color Grading
One of the most effective ways to give your shoppable videos an outstanding visual aspect is by incorporating color grading into your scenes. Color grading is the process of editing a video's color scheme to help make it feel more vibrant and stylistic.
Colors can evoke powerful emotions within a viewer, as well as prompt them to make decisions or think in a certain manner, so use it to your advantage.
The Ted Baker Mission Impeccable makes great use of color grading to enhance the visual experience and add to the mystery by using specific colors throughout the shoppable video. In this case, The color grading gave the video a cinematic look.
Final Words
It's important to ensure that your shoppable videos stand out and grab the viewers' attention. To do this, you need to be creative and constantly come up with innovative ways to display your products.
Combining shoppable video technology and your creativity will have a positive impact on your viewers and, ultimately, your revenue. Pay attention to successful and popular shoppable videos and take notes of the techniques they use to find inspiration.
» Ready to start? Use Tolstoy to make shoppable videos