An eCommerce Guide to Shoppable Videos

Reviewed by

Joel Taylor
Updated February 1, 2023.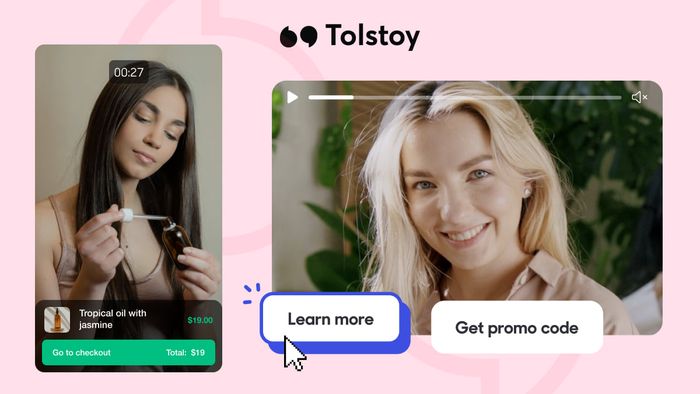 Consumers today are used to discovering and engaging with people and brands through authentic, off-the-cuff, short-form videos, on platforms like Tiktok, Instagram, and Snap.
By not offering a similar experience on their storefronts, brands are missing out on valuable conversions and data.


In this guide we'll cover everything you need to know on how to create engaging Shoppable Videos. Plus, we've included examples from successful brands who are using eCommerce videos to increase sales.


Mobile shopping is continuing to rise, as are consumers' expectations of convenience. Shoppable videos streamline the shopping experience from product discovery to check-out. See the examples below of how brands are using shoppable videos to make it easier for consumers to view and purchase products without ever leaving the video.


Nothing beats high-quality content. Capture your audience's attention (& wallet) with an experience as immersive as TikTok. Read below for the top 5 benefits of using shoppable videos for eCommerce.
1. Increase Customer Engagement
Swipeable videos are familiar to customers, it mimics the experience on TikTok and Instagram Reels. When Shoppable video feeds are added to a site, customers view more products and spend more time on-site.
2. Deliver a Seamless Shopping Experience
With an all-in-one platform to watch videos and shop, you're satisfying the immediate purchase desire that content creates for the viewer, and in less clicks!
3. Give Personalized Recommendations
Connect authentically and guide users towards the right products for them. It'll feel as if they have a personal shopping assistant by their side.
4. Gain Valuable Consumer Insights
Interactive videos provide tangible data on the customer journey. Use the collected metrics to uncover customer needs, improve their experience, and gain deeper insights into their buying habits.
5. Improve Conversion Rates
Turn your visitors into customers in 5-minutes. Shoppable video drives engagement and streamlines the checkout process, making it easier and quicker for consumers to purchase.


Shoppable videos are the future of eCommerce. Pull ahead of your competitors and increase in your key performance indicators (KPIs) by using the methods below.
1. Promote New Products
Give your customers a visual walkthrough of your products or collections then allow them to add these items to the cart and be taken to the checkout page, directly through your video. Products can be categorized into Stories (similar feel to Instagram), or displayed in a scrollable Feed (similar to TikTok).


2. Provide Offers and Discounts
Make it easy (and fun!) for customers to view your latest offers and discounts. You can even include promo codes within the video that your customers can use instantly.
3. Hook Viewers With Creator Content
Capture your customers' attention with engaging footage and provide them with a unique channel for shopping at the same time. Grab user-generated content (UGC) you already have on TikTok, Youtube or Instagram, such as unboxing videos, wardrobe hauls and honest reviews, and place them directly on your product page.
4. Give Personalized Product Recommendations
Turn visitors into customers when you engage them in a video quiz and provide product recommendations specifically for them.
5. Place an Add-to-Cart Button on Any Video
Grab any video you already have on social media and it to your website or marketing campaign. Upgrade your video with an "add-to-cart" button or a link leading customers to a special landing page.


Maximize views and engagement on your shoppable videos by incorporating them into every aspect of your eCommerce marketing strategy. Below are the best ways to share shoppable videos to boost conversions instantly.


Maximize views and engagement on your shoppable videos by incorporating them into every aspect of your eCommerce marketing strategy. Below are the best ways to share shoppable videos to boost conversions instantly.
Add Shoppable Videos to Your Website
Bring your TikTok and Instagram videos to your website and let customers purchase products through them. With the below features, you can place shoppable videos on any page on your website or Shopify store.
Send Shoppable Videos by SMS or Email
Meet your customers where they are. Reach them on their mobile devices with attention grabbing videos through SMS and Emails. Your customers can start shopping directly through your video the moment they receive your email. Our favorite ways to use embedded shoppable videos
Best Practices for Creating Shoppable Videos
1. Include Add-to-Cart Buttons
Shorten the customer's path from video consumption to purchase by making it easy for them to purchase items directly from the video.
2. Focus on 5-6 Products for Each Shoppable Video
Customers retain the most information when there are common themes and a limited amount of items. Group your products into collections and show only 5-6 products per video.
3. Provide Captivating Product Demonstrations
Through engaging and educational footage, give your customers a reason to buy your products by showing exactly how and why they should use them.
4. Create Exit Intent Videos
When a customer is about to leave the page, set rules to pop up a widget that can engage users and keep them on the site longer - and even purchase straight from the new video.
5. Be Creative
At the end of the day, the goal is to entertain your customers to the point where they don't want to look away from the video, and thus leave them more likely to buy your products.
Looking for More Inspiration?
There's no limit on the ways you can create and share shoppable videos to boost store sales instantly. For more inspiration, check out this article on 6 types of interactive Tolstoys you can create to level up your eCommerce game.
If you have any questions, don't hesitate to reach out to support@gotolstoy.com, we're happy to help.