3 Tips for Using Videos to Create Better Shoppable Customer Experiences

By

Kate Pauline Galagnara

Reviewed by

Tamara Fodora

Fact-check by

Joel Taylor
Updated March 14, 2023.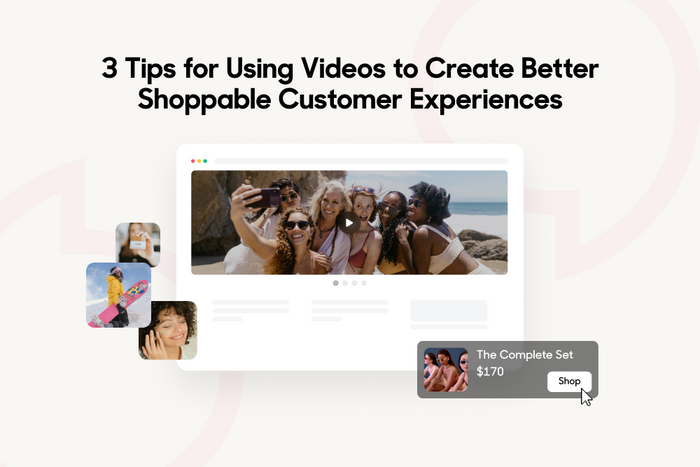 This likely isn't a surprise to anyone, but online shopping is quite popular today. Consumers are flocking to the digital world for convenience, and it's up to businesses like yours to make sure they have a positive experience. The challenge today is—how do you do that?
Using videos is an excellent way to add value and create a better shoppable customer experience. They are engaging and interactive, and they help people feel more connected with your brand. But, it's important for you to know how to use videos the right way.
Additionally, when it comes to online shopping, customers want convenience and immediacy. They want to buy what they need quickly and easily, without any hassle.
So what can you do to make sure your customers have a great shoppable experience using videos? Here are 3 tips that we think can help.
» Do you have an online store? Read about other interactive marketing tools that can help you
1. Choose the Right Type of Video
The type of video you should use depends on the product or service you're selling.
For example, if we're talking about an interactive product that needs to be used in a certain way, then an instructional video might be the best choice. On the other hand, if you're selling a luxury item like jewelry, a lifestyle video showcasing the product could be more appropriate.
Moreover, there are different types of videos that your potential customers would like to see, such as:
Essentially, you should choose videos that are tailored to your products, brand, and customers. You also want them to convey the product's value and benefits in the most effective way.
2. Pay Attention to the Structure
Have a look at the structure of your video. Make sure it's concise and easy to follow, while still conveying all the necessary information. Also, be sure to include a call-to-action at the end of your videos so customers can easily make a decision after they watch it. For example, you could include a link for them to buy the product, sign up for a service, or just browse your product page.
Other things you need to consider when creating a great structure of a shoppable video are:
Length

Engagement

Interactivity
Essentially, you want to make sure your videos are well-structured, informative, and engaging. Overall, the structure should be clear and logical.
3. Optimize Your Video
If you're using a shoppable video on social media, like Instagram, for example, make sure it's optimized for mobile users. If you're using it on your website, consider adding an in-video purchase option to streamline the process.
Moreover, you can also add videos to your email campaigns or create a customized video landing page to help drive more conversions. In short, placement matters when it comes to shoppable videos. So, make sure you're choosing the right locations for maximum potential, and make sure the video fits the platform.
» Prefer to advertise on Shopify instead? Read our guide to embedding shoppable videos on Shopify
How to Get Started
Now that you have an idea of how to use videos to create better shoppable experiences, it's time to start creating!
Remember, the type of video you choose, its structure, and where you place it all matters when it comes to optimizing your shoppable experience. With a bit of planning and strategic thinking, you can create videos that not only engage customers but also drive conversions.
Videos can be one of the most powerful ways to create memorable and lasting shoppable experiences for your customers. Use them strategically and you'll be well on your way to creating more successful marketing campaigns.
» Learn more about how shoppable videos affect e-commerce
Why Focus on Videos?
There you have it. The key is to keep your customers in mind and deliver an experience that's tailored to their needs. By following these tips, you can create shoppable videos that will help boost your sales and build loyalty with your customers. And if you're not sure where to start, let Tolstoy handle the complicated details for you.
Ultimately, creating a positive customer experience will help your business stand out from the competition and keep customers coming back for more. So don't forget to include these tips and leverage the power of video when creating your next shoppable experience.