What Is a Shoppable Video? (With Examples)

By

Ashley Stander

Reviewed by

Korana Braun
Updated December 20, 2022.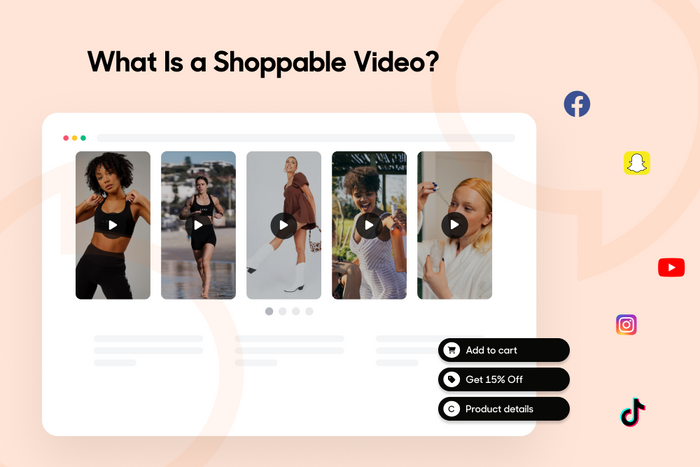 A shoppable video is a useful multimedia marketing tool that will help your brand to connect your customers to your products in one easy step. Not only do shoppable videos attract more leads, but they also build your customer base in a more organic manner.
Shoppable Videos Explained
In short, a shoppable video turns your customers' desires into reality. This is achieved by embedding links into your videos that lead customers to purchase the product that you are marketing, quickly, easily and conveniently.
Research has shown that users really relate to video marketing, so by using shoppable videos, you will be strengthening your brand presence and increasing customer engagement—all at the same time.
Shoppable Videos on Social Media
You can literally use shoppable videos on any social media platform. You need to have a good understanding of which platforms your targeted audience uses and then use those platforms to showcase your shoppable videos. Some of the most popular social media platforms for shoppable videos include:
Facebook

Instagram

TikTok

Youtube

Snapchat
Benefits of Shoppable Videos on Your Website
With shoppable videos, you will capture your audience's attention. Whether they buy your products or not, they will still be given a virtual, entertaining tour through what your eCommerce store has to offer.
Shoppable videos make a great addition to your website, both in terms of the customer journey and your conversion rates. Using Tolstoy, you can add your curated shoppable videos directly on your site wherever you please. Doing so will offer you the following benefits:
Optimized sales funnels

Almost every eCommerce seller understands that customers aren't willing to read bodies of text or jump through hoops just to make a purchase. Using shoppable videos can simplify the customer journey by decreasing the number of steps they have to take, which will inevitably lead to an increase in sales.

Higher profits

Tolstoy allows you to create enticing shoppable videos without having to outsource a third-party content creator. So long as you have the facilities for basic video and audio recording, you can use our service to create and implement your shoppable videos and leverage the benefits at an affordable cost.

Brand loyalty and customer satisfaction

Shoppable videos allow you to imbue your brand's personality on your store, which can improve the user experience and keep customers on your site for longer. You can even turn your community UGC into shoppable videos to leverage the power of social proofing.

Amazing analytics

Using Tolstoy will give you access to a powerful analytics dashboard to help you understand exactly how your consumer base interacts with your videos, allowing you target them better
» Want to learn more? Check out our eCommerce guide to shoppable videos
5 Best Shoppable Video Examples
Now, let's take a look at five examples of really good shoppable videos and discuss why they are effective and useful.
1. IKEA Interactive Video
This shoppable video seamlessly moves the viewer through various scenarios in the kitchen. As you will see in this video, they have perfectly captured the wide audience by re-enacting what people from all walks of life do in their kitchen—promoting their product line in a clever and entertaining way.
2. Gogglesoc Tap to Shop Video
This video takes the viewer through the different benefits of the sunglass cases they sell, showing how versatile they are, how beautiful they look, how easy it is to use them, with the added bonus of having an in-built cleaner as well.
Gogglesoc has perfectly crafted their message in this shoppable video, completely in line with their marketing angle. They conclude their shoppable video with a "Shop the collection" button, which takes users straight to their catalog. This video is engaging and entertaining, and offers a seamless shopping experience—all at the same time.
3. Anyday Shoppable Video
This video is a great example of using a how-to video to sell products. It catches your attention and helps you learn step-by-step how to use products for a simple recipe.
Not only these dishes are super easy to use with, but they are also promising a time-saving solution for every person who wants to eat home-made meals but doesn't have much time to spend preparing them.
The video inspires people to make a purchase and use their new skill (the know-how for cooking mash in the microwave) as soon as they get their hands on these dishes.
4. Collishop Interactive Video
Colruyt uses a series of "life-hacks" in the form of tips and tricks that users can use in every day life to help them. Their interactive videos explain the helpful tips and then also promote a product that works well with the hack or tip.
The interactive layer leads customers to a purchase, easily and without too much effort. This is useful because it shows that Colruyt is not just trying to sell products, they are providing helpful tips at the same time.


5. Pandora Shoppable Video
This interactive video offers users a quiz to help them decide what to buy for loved ones for holiday season gifts. This method also offers the user assistance with their shopping, which is unique, engaging and at the same time super fun—let's face it, everyone enjoys a quiz!
» Want to create shoppable videos for Instagram? Get inspired with 5 best instagram shoppable video examples
Key Takeaway
When used correctly, interactive shoppable videos can boost your bottom line like never before. As long as you remember to:
Keep it short and punchy

Offer a dealbreaker in the eyes of your users

Keep it professional—good lighting, great characters, and an engaging script

Have a hook to catch attention and keep your users watching till the end
» Ready to get started? Create engaging shoppable videos with Tolstoy